From standard whites to brown organic, Kreider Farms is your source for all your high quality fresh egg needs. We offer egg packaging in pulp, foam, plastic and bulk pack trays. Our Kreider Farms brand is available to all customers and we offer a private label program for larger chain accounts.
Standard White



Our standard white eggs are produced in new state-of-the-art colony cage housing that provides more space and better ventilation. All steel housing along with daily manure removal provides a super clean, fresh environment for the chickens.
Kreider Super Jumbo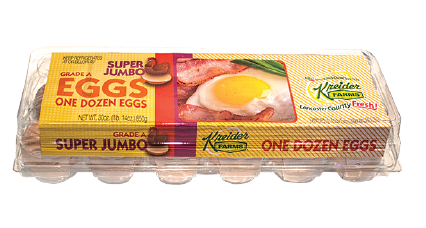 Our super jumbo eggs are even bigger than our regular jumbo eggs and many of them have double yolks!
Biological Values of Protein

On a scale, with 100 representing top efficiency, these are the biological values of proteins in several foods.

Whole egg
93.7
Milk
84.5
Fish
76.0
Beef
74.3
Soybeans
72.8
Rice, polished
64.0
Wheat, whole
64.0
Corn
60.0
Beans, dry
58.0
Source: Food and Agriculture Organization of the United Nations. The Amino Acid Content of Foods and Biological Data on Proteins, Nutritional Study #24. Rome (1970).
Looking for Kreider Farms farm fresh eggs?
Find our products at a local supermarket near you !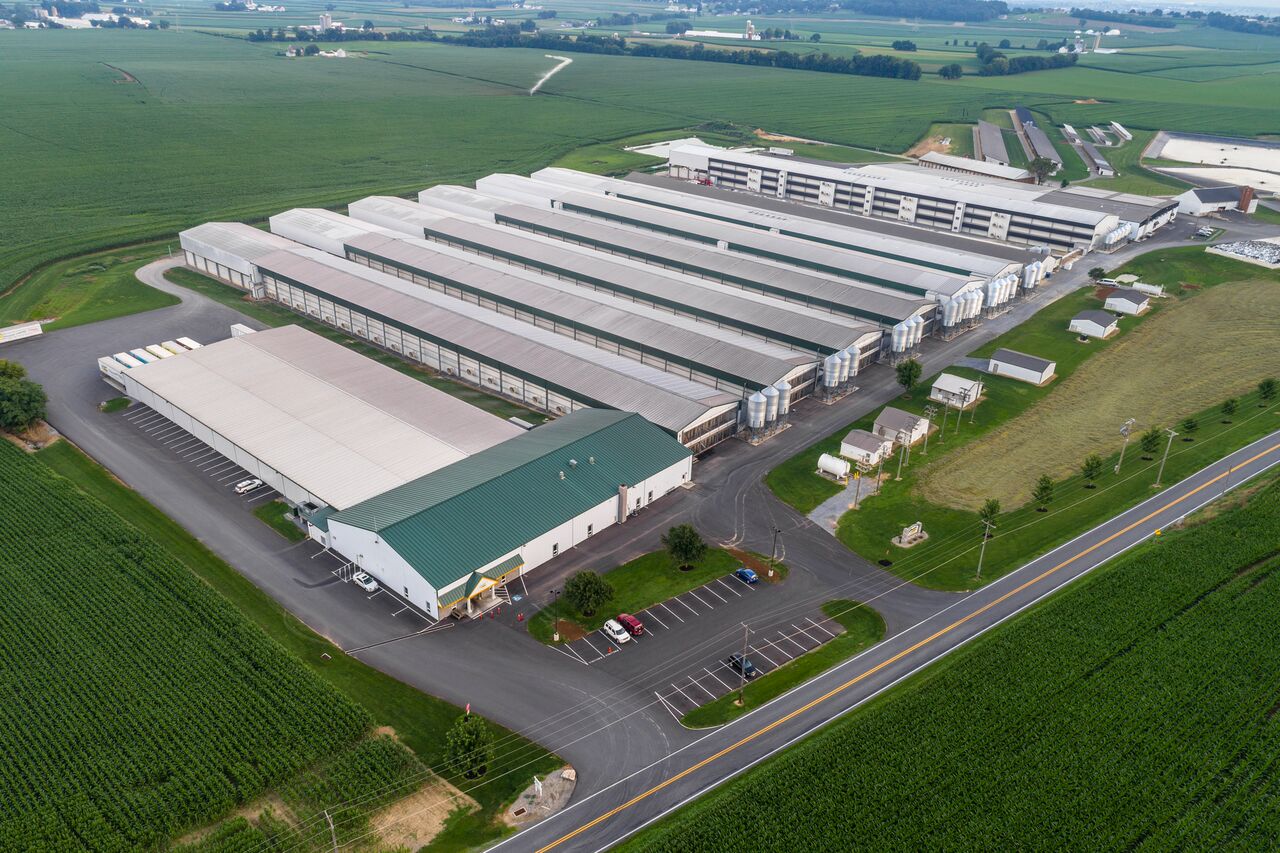 Since 1935, Kreider Farms has been a top quality producer and distributor of fresh eggs. With over 82 years experience and four modern layer facilities, Kreider Farms has become a top supplier of fresh eggs to some of the finest supermarkets and wholesalers in the northeastern United States. We are the only full-scale egg and dairy farm in the United States.
In-Line Freshness
All layer houses are equipped with in-line processing facilities so the eggs are packed the same day they're produced for maximum freshness.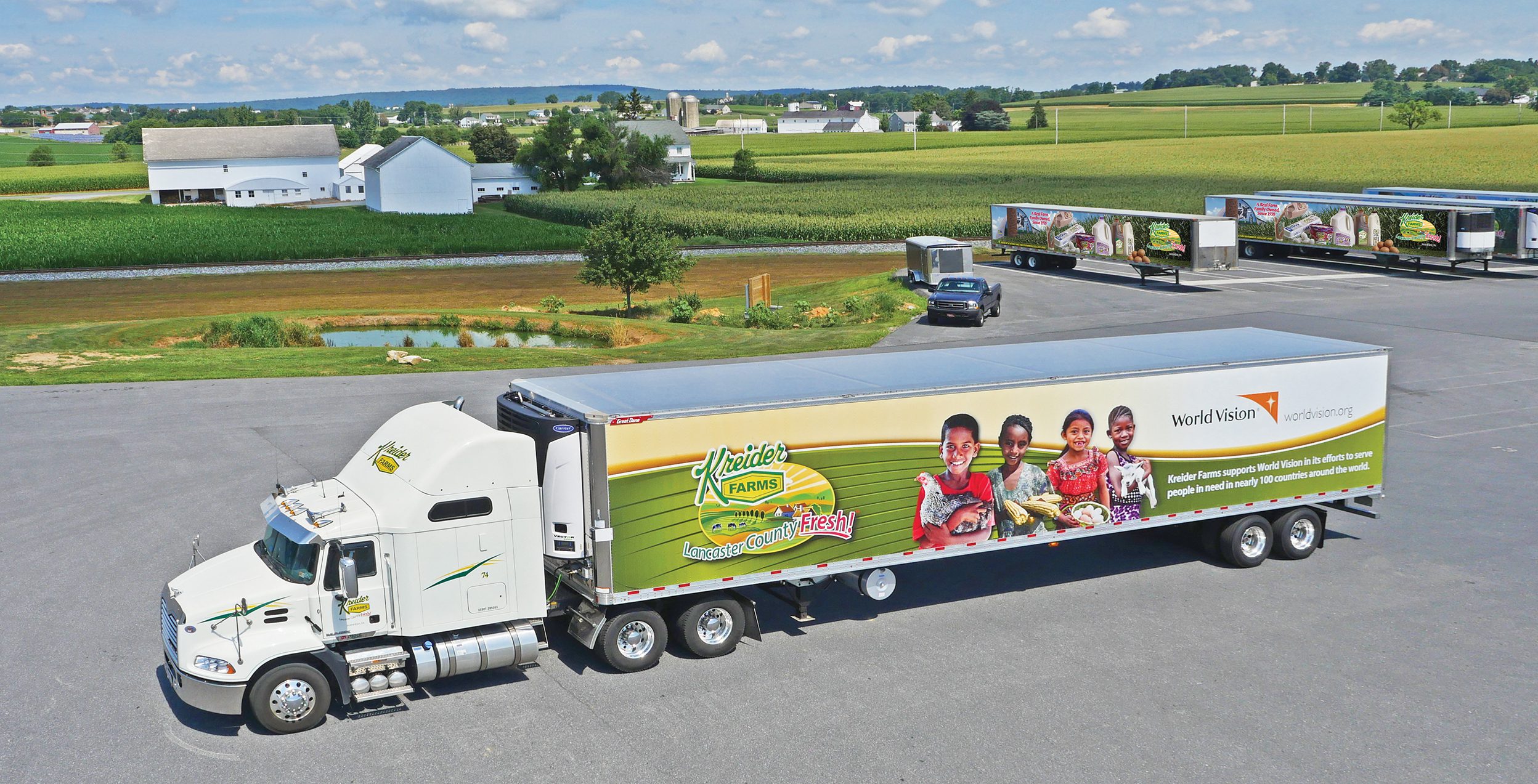 Quality & Service
From raising chicks to delivering fresh in our own shiny fleet of trucks, Kreider Farms controls quality from animal husbandry to processing, sales and distribution.
Our staff professionals follow strict regulations set by the USDA and Pennsylvania Department of Agriculture
Third-party audits monitor our certified husbandry program
We are SQF and PEQAP certified
Our feed supplier is ISO certified
Our cage-free eggs are AHA certified
Our four modern egg facilities are located in close proximity to our distribution center, which enables Kreider Farms to be extremely efficient and provide excellent service.
Delivery
Deliveries are made by friendly Kreider Farms drivers on clean air ride trucks maintained by our own full service garage. In a snow storm, we have been known to use our large farm equipment to plow local roads so our trucks can get to the turnpike. A little snow does not stop us from delivering our quality farm fresh eggs.
Variety
From standard whites to browns and organics, Kreider Farms offers a complete assortment of product and packaging options for every channel of distribution. Kreider Farms is your source for all your high quality fresh shell egg needs.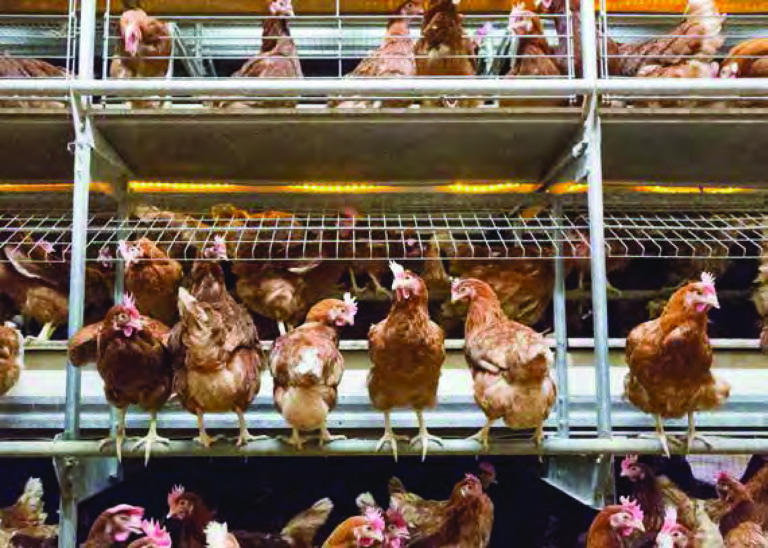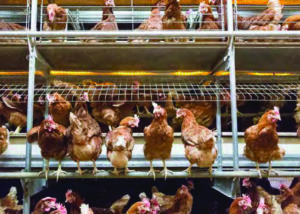 The new cage systems are also classified as "enrichable". Enrichable means the cages can be modified into semi and full colony systems. In fact, we've already converted most of our new cages into either double-wide or quad housing. So not only are our new cage systems more advanced than conventional cage systems, our double-wide and quads cages are unique among other new cage systems around the country.
Looking for Kreider Farms farm fresh eggs at your local supermarket?
Check out
where to buy
from the store nearest you!