September 1, 2021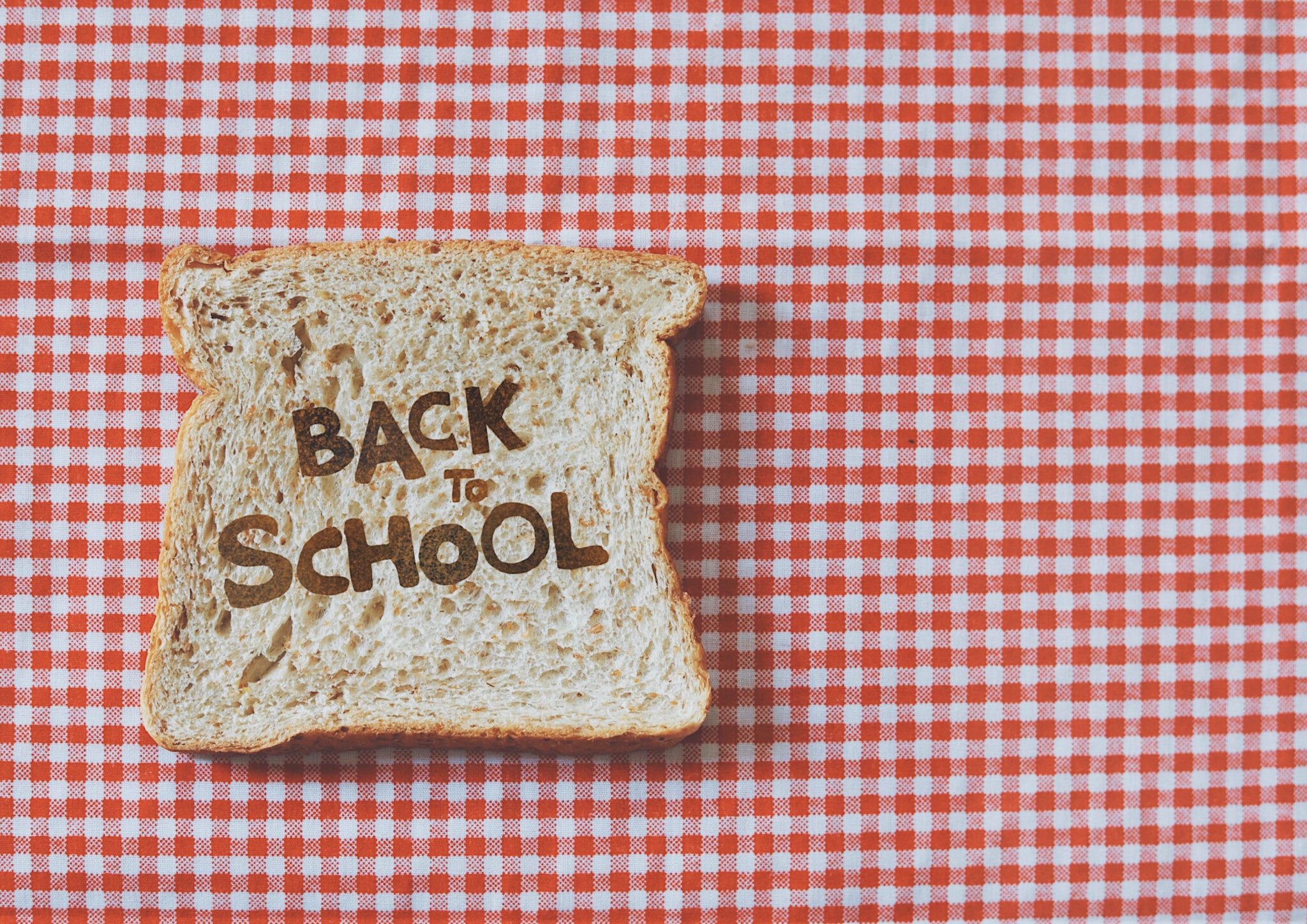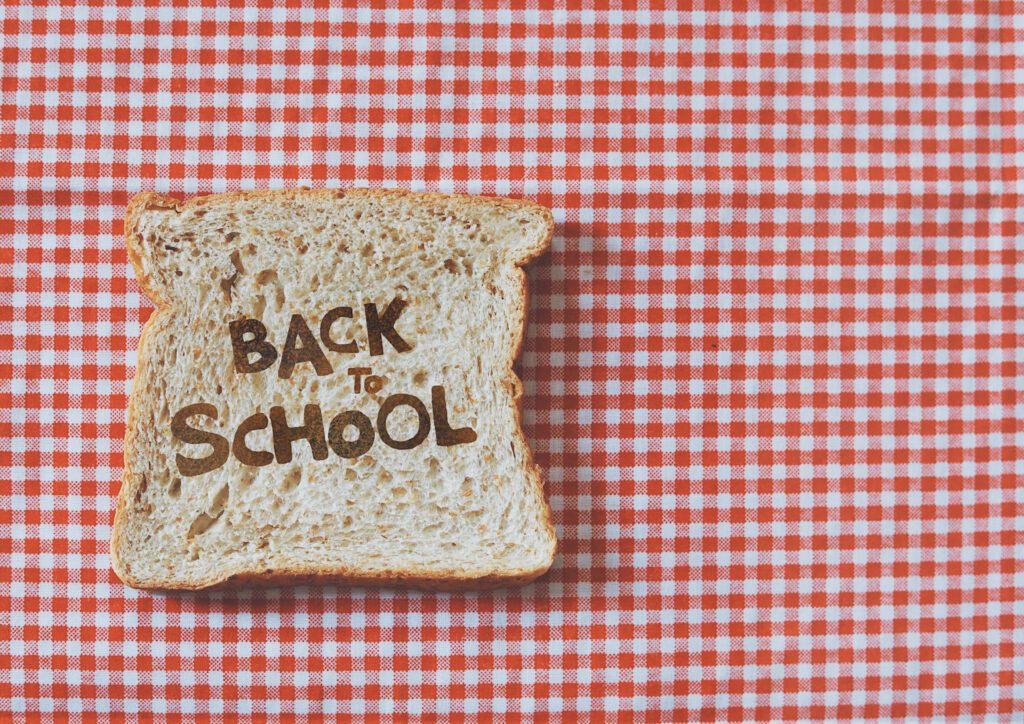 It's back-to-school and back to the busy rush of weekday mornings. We know how difficult it can be to get everyone out the door on time, so we've come up with these Back-to-School Breakfast Bites that will make your morning routine a breeze! These bite-sized, pop-able, on the go breakfast solutions can all be made ahead and kept on hand for use throughout the week. Take an hour out of your Sunday afternoon to prep a few of these creations and avoid having to think up breakfast until next Sunday!
Plus, while it can be easy to just think "I'll skip breakfast, it's not a big deal," it's a bigger deal than you think! In 2019, about 25% of Americans were regularly skipping breakfast, and that's no Bueno. Believe it or not, the "most important meal" of the day can set the tone for success or failure. Not only does it fuel your empty tank from the night before, but it jumpstarts your body and boosts brain power!
Chocolate Peanut Butter Oatmeal Bites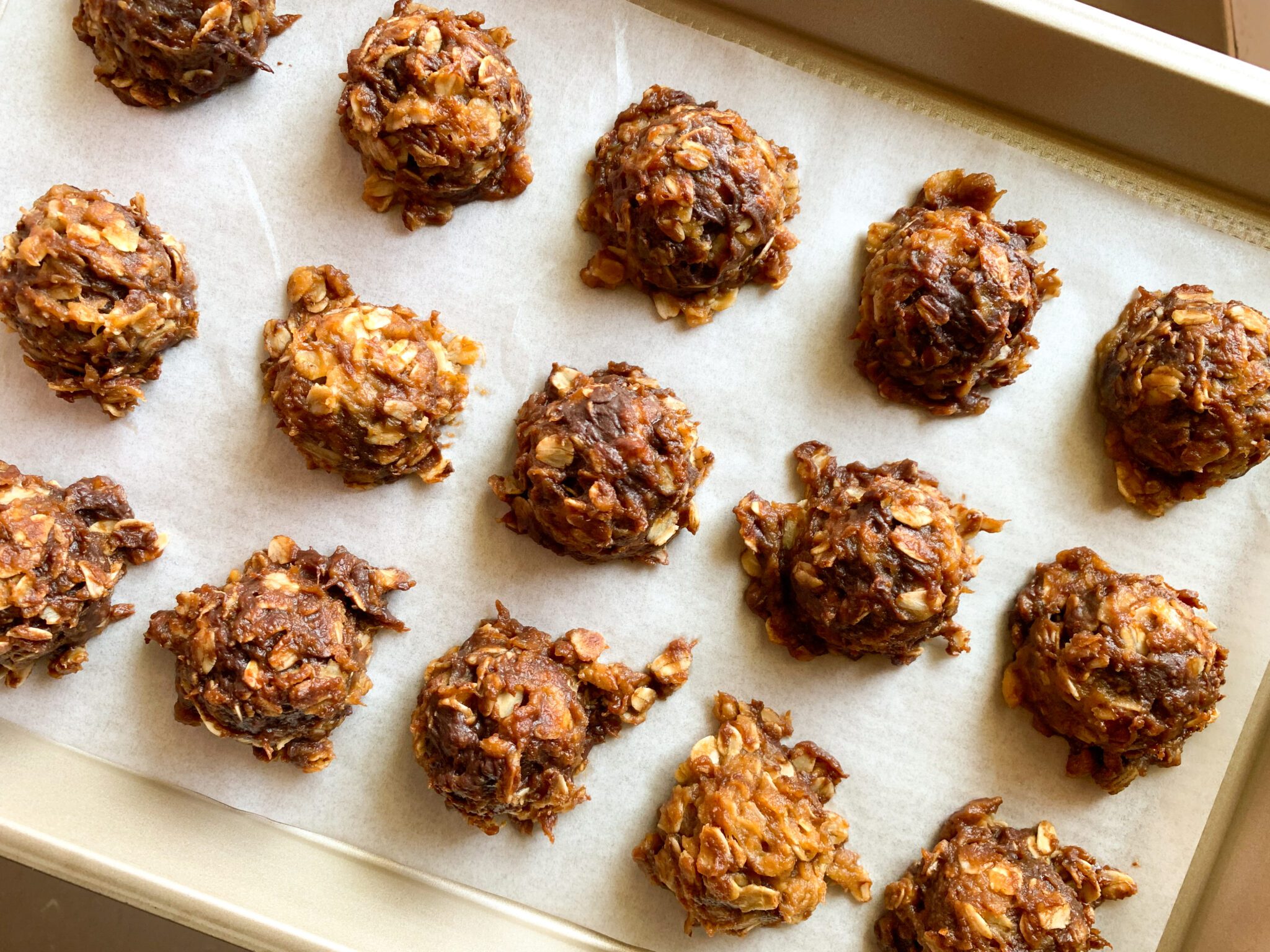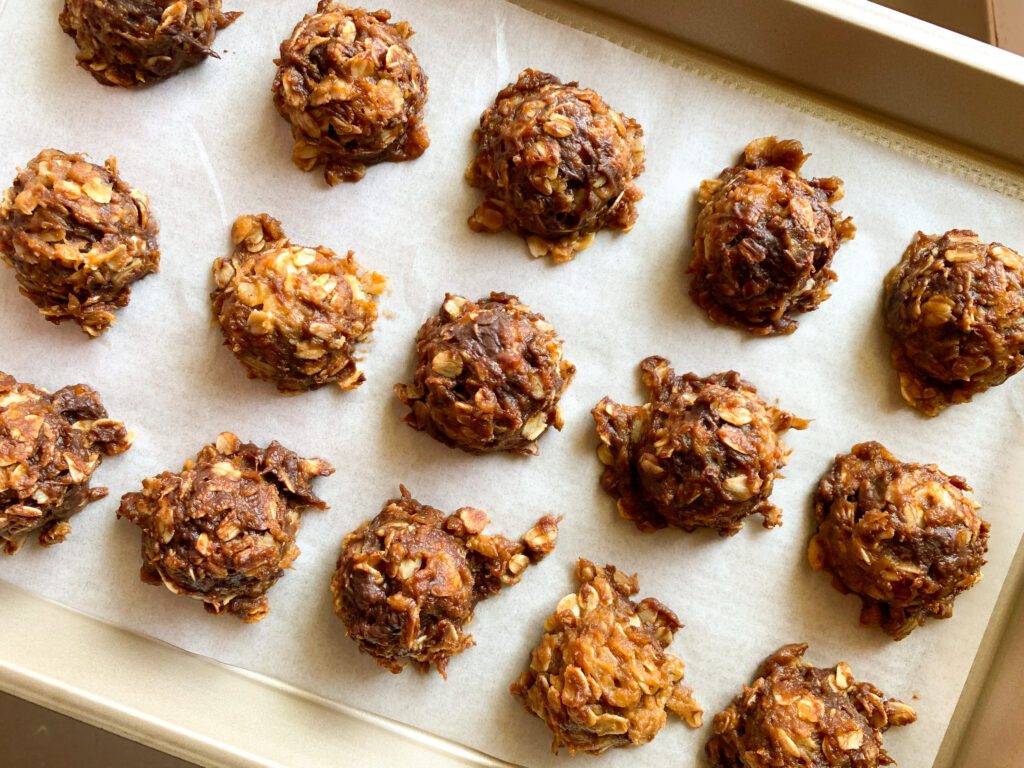 These no-bake, easy bites are not only great for breakfast, but for snacking too! With just a few simple ingredients, your kids won't be able to keep their hands off all of the chocolate and peanut buttery goodness! Plus, these bites almost make eating cookies for breakfast acceptable.
Ingredients (makes 12)
2 tbsp coconut oil
½ cup peanut butter
¼ cup maple syrup
¼ cup mashed banana
1 tsp vanilla
2 cups old fashioned oats
1 tsp cinnamon
pinch of nutmeg
pinch of salt
¼ cup mini chocolate chips
Instructions
In a medium saucepan, whisk together coconut oil, peanut butter, maple syrup and banana over medium heat until melted and smooth. Bring to a boil and remove from heat.
Whisk in vanilla before stirring in oats, cinnamon, nutmeg and salt. Allow the mixture to cool for 2 minutes before adding in chocolate chips.
Using a small cookie scoop, scoop out the dough onto a parchment lined baking sheet and refrigerate until set, at least 30 minutes. Store in a sealed container and enjoy as desired!
Pancake Bites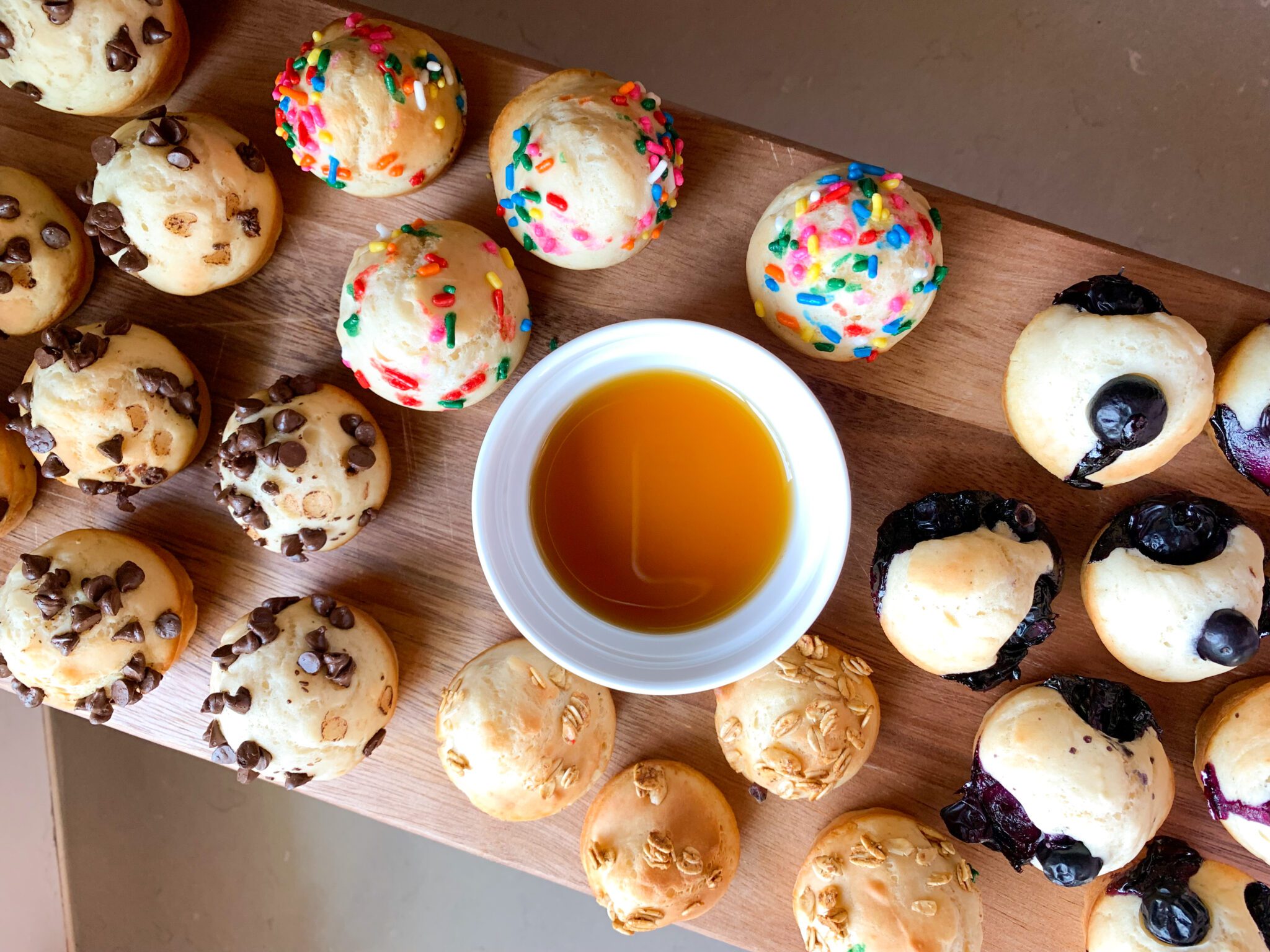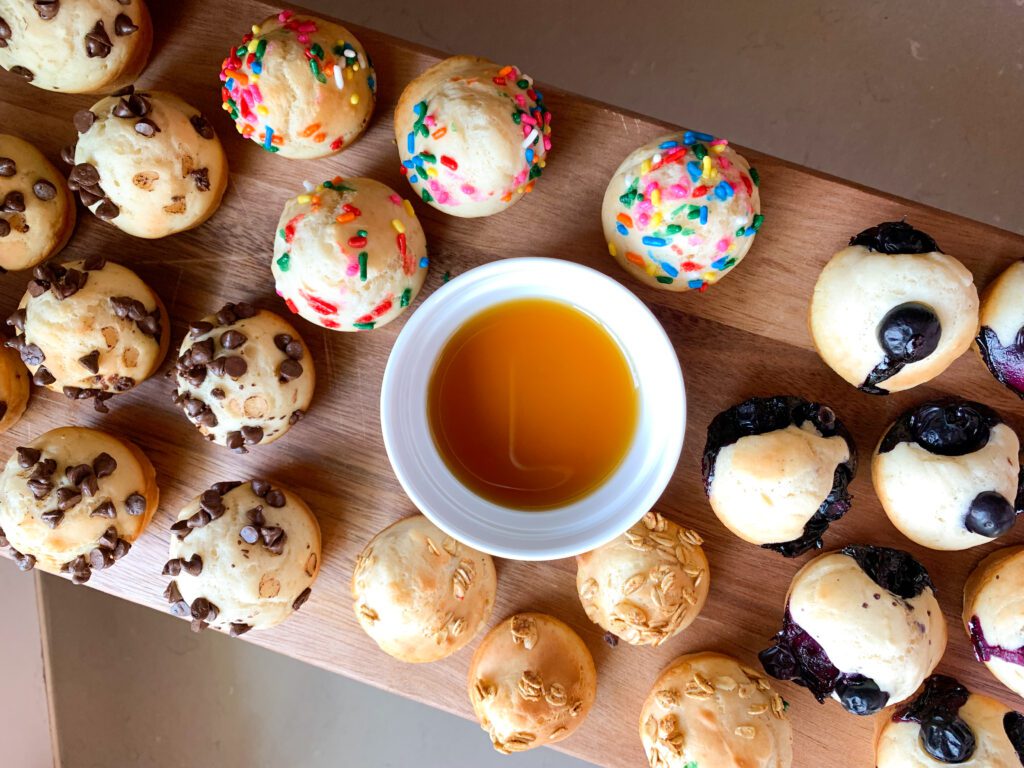 Pancakes are always a great way to start the morning, but make them bite-sized and the fun goes to a whole other level! Start with just your basic pancake mix and add in your toppings of choice. Make a few batches of different varieties to meet everyone's need and keep the morning routine a breeze!
Ingredients (makes 24)
2 cups pancake mix
1 1/3 cups Kreider milk
1 tbsp maple syrup
1 tsp vanilla
blueberries, chocolate chips, granola, sprinkles or other toppings of choice
Instructions
In a bowl, add pancake mix, milk, maple syrup and vanilla and combine until smooth.
Divide batter into greased mini muffin tins leaving some space to add toppings.
Top each pancake bite with blueberries, mini chocolate chips, granola, strawberries, sprinkles and any other toppings of your choice.
Bake at 350°F for about 15 minutes or until the pancakes are set and the edges begin to brown. Pop out and enjoy!
Sausage, Egg & Cheese Rolls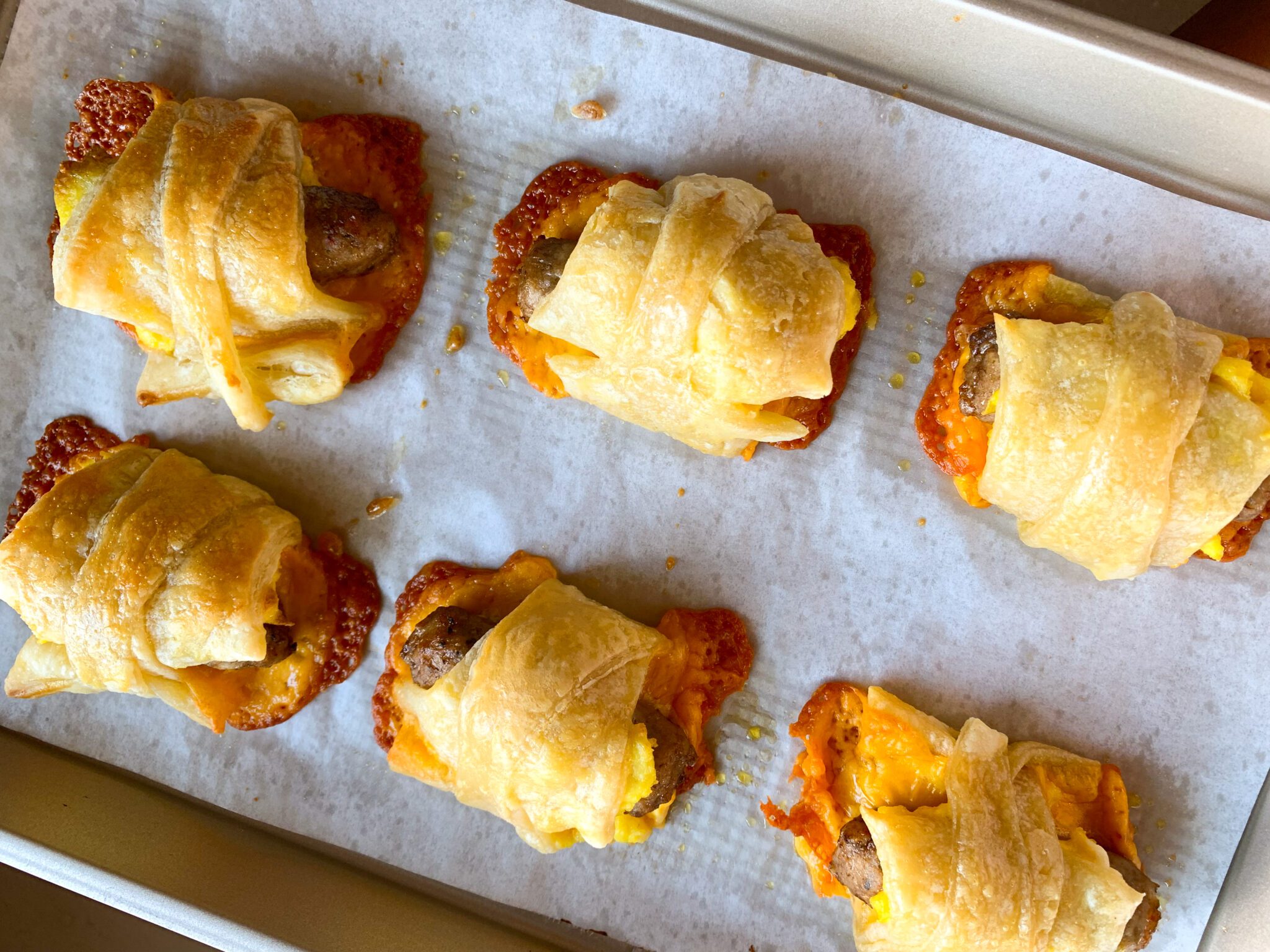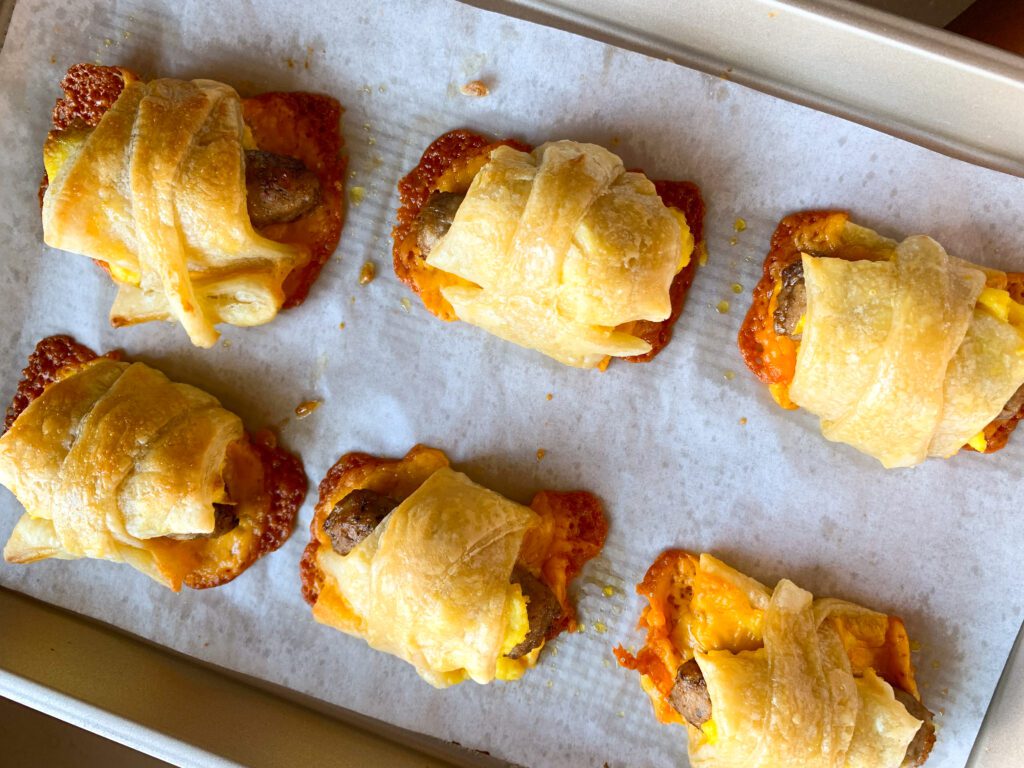 These Sausage, Egg & Cheese Rolls are the breakfast version of pigs in a blanket. These bite-sized savory bites are perfect for picky eaters, giving them tons of nutrition in just a few small bites. If you make these ahead, just pop them in the toaster oven for a few minutes before enjoying!
Ingredients (makes 10)
breakfast sausage links, cooked
3 Kreider eggs, scrambled
cheddar cheese slices
pastry dough
Instructions
Cut small, long triangles of pastry dough and lay on a parchment lined baking sheet.
Add a half slice of cheese, spoonful of scrambled eggs and cooked sausage link to the base end of the triangles before rolling them closed.
Brush each bite with a light egg wash before baking at 350°F for about 15 minutes or until pastry is golden brown. Serve up and enjoy!
Peanut Butter French Toast Roll Ups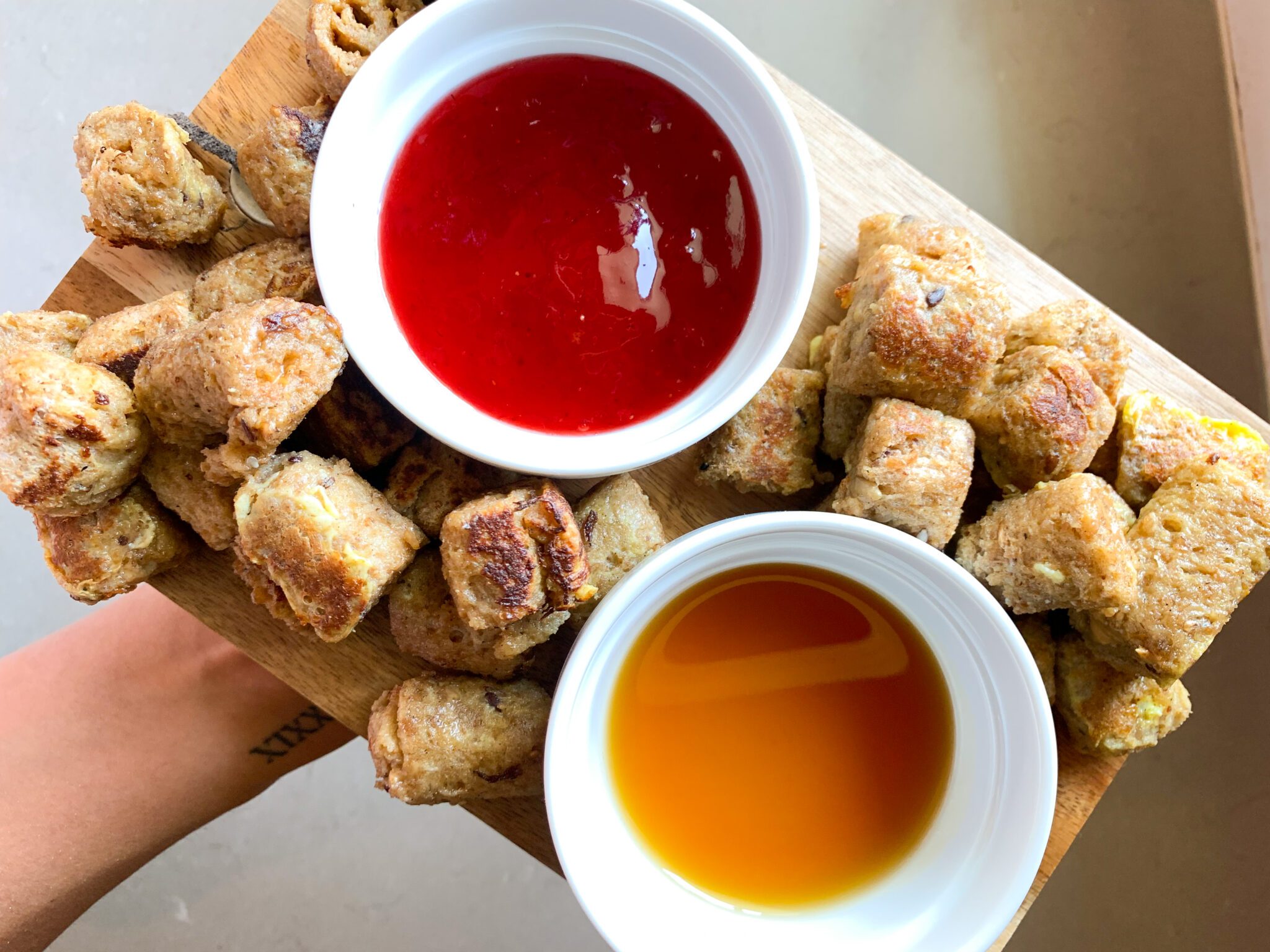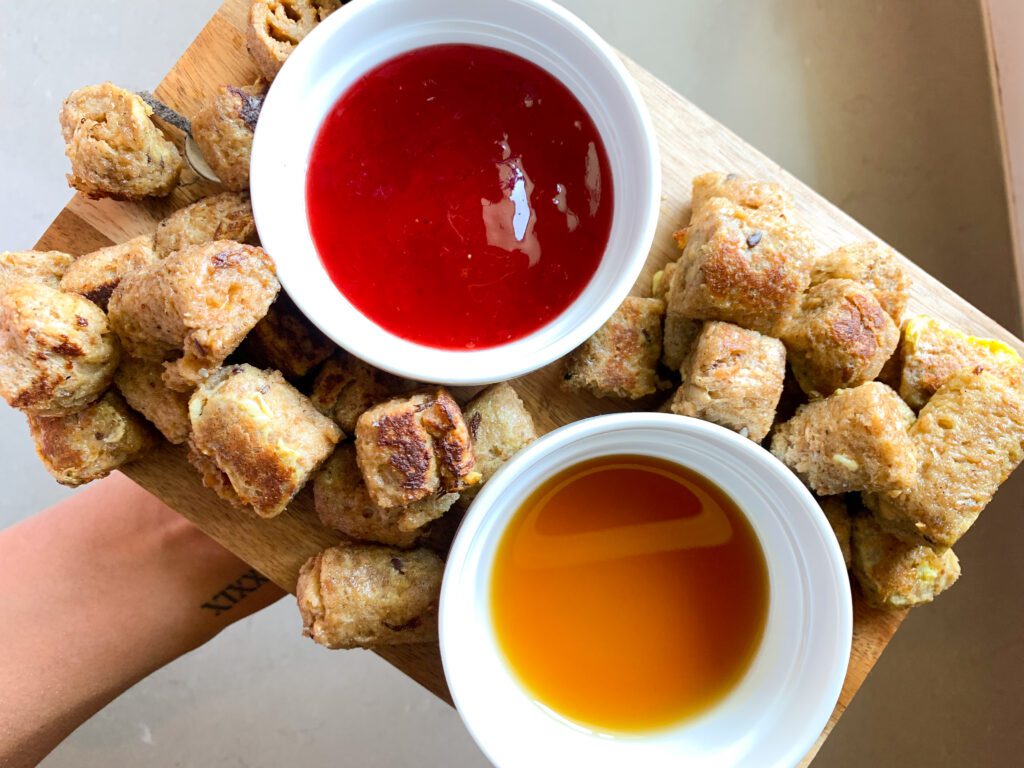 Want French toast without all the mess? Try these Peanut Butter French Toast Roll Ups! Dip them in syrup for a more classic French toast feel or dip them in jelly for a little PB&J breakfast action.
Ingredients (makes 48)
8 slices sandwich bread, crust removed
1/3 cup creamy peanut butter
2 large Kreider eggs
¼ cup Kreider milk
butter
Instructions
Use a rolling pin to roll out the bread slices as thin as possible.
Spread each slice with peanut butter and roll up tightly, pressing to seal the edges. Slice each roll into 6 pieces.
In a small bowl, whisk together eggs and milk. Dip each bite in the mixture to coat and then add to pan over medium heat with the melted butter. Cook on each side for about 1 minute or until the entire bite is golden brown.
Serve with syrup or jelly for dipping and enjoy!
Breakfast Tot Cups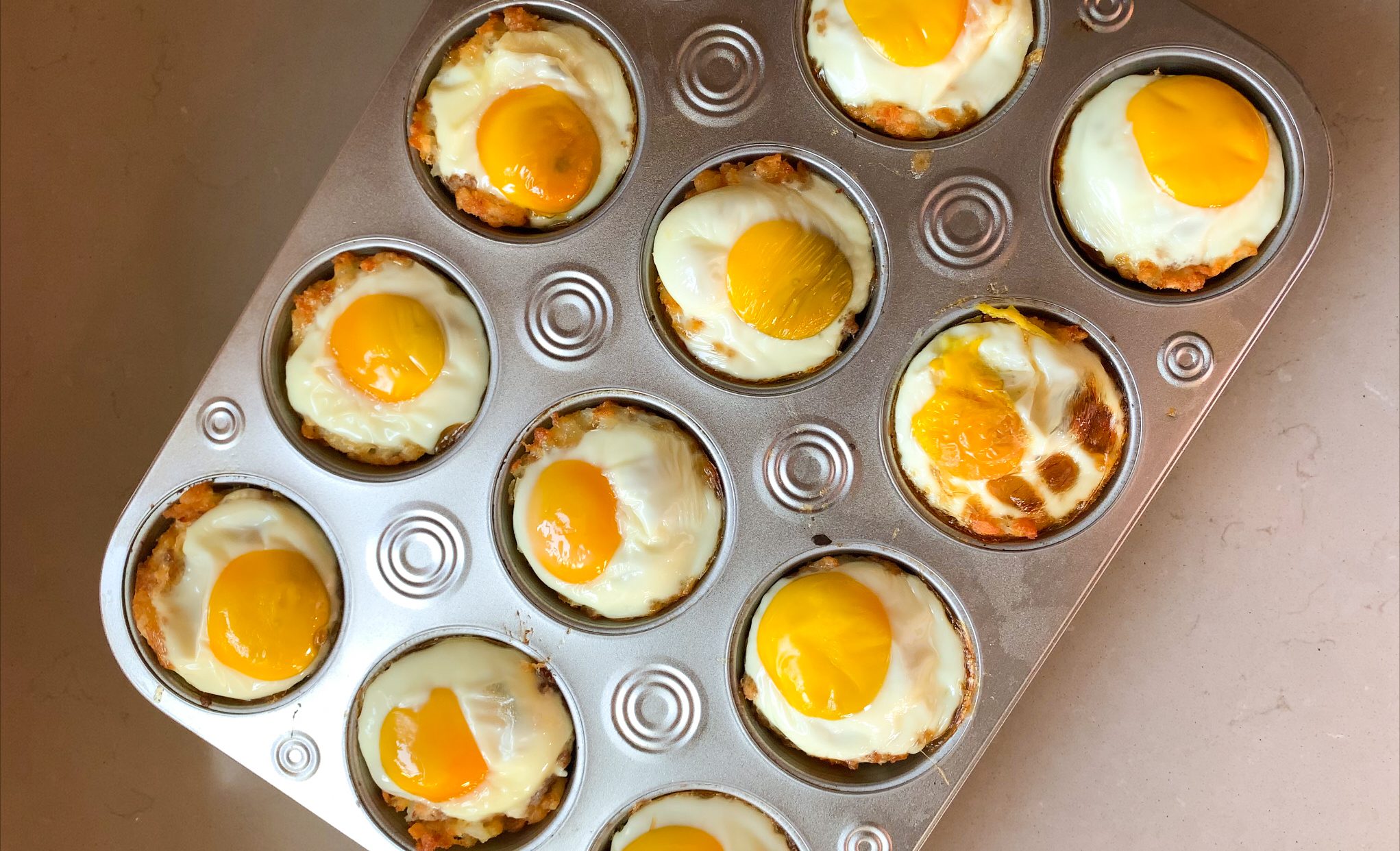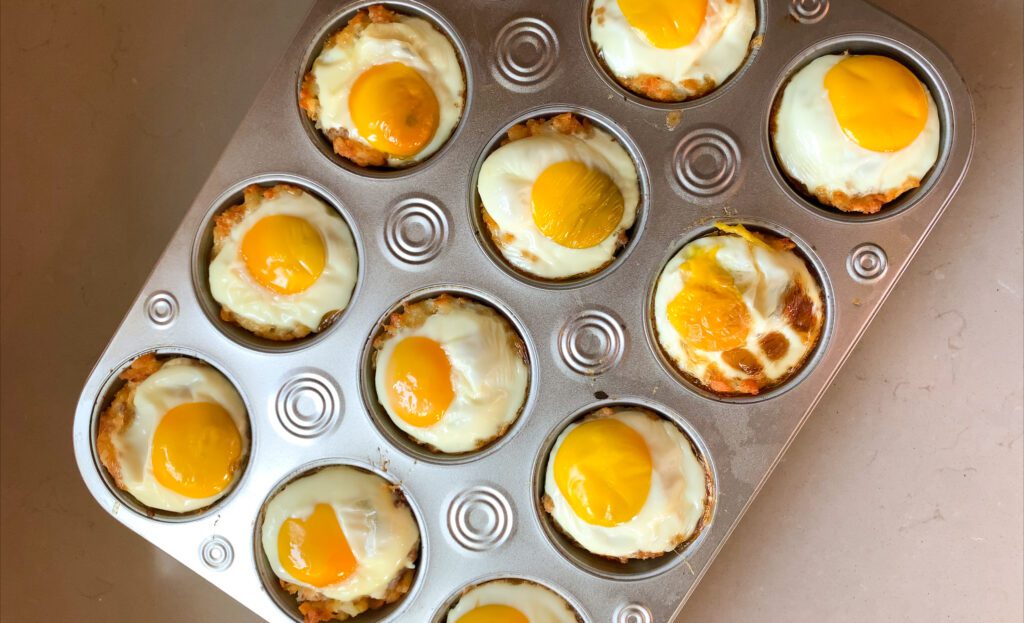 Tater tots, sausage and egg? Name a better breakfast combo, I'll wait. These Breakfast Tot Cups might just be the most classic Back-to-School Breakfast Bites, offering all the staples in one convenient cup.
Ingredients (makes 12)
36 tater tots, frozen
12 large Kreider eggs
8 oz ground breakfast sausage
4 oz cream cheese
4 oz cheddar cheese, shredded
Instructions
Cook sausage in a skillet over medium heat and drain grease. Add in cream cheese and continue cooking until well combined, set aside.
In a greased muffin tin, add 3 tater tots to each cup and bake at 425°F for 10 minutes.
Remove from oven and use a spoon to press down the tots around each cup. Then sprinkle in some cheddar cheese and add a spoonful of the sausage mixture, pressing down into the cup and ensuring it's level.
Finish by cracking one egg on top of each cup and return to the oven. Bake for an additional 15 minutes or until the egg is set and cooked to your liking.
Remove and allow to cool for 5 minutes before popping out and enjoying!
Cinnamon Sugar Bites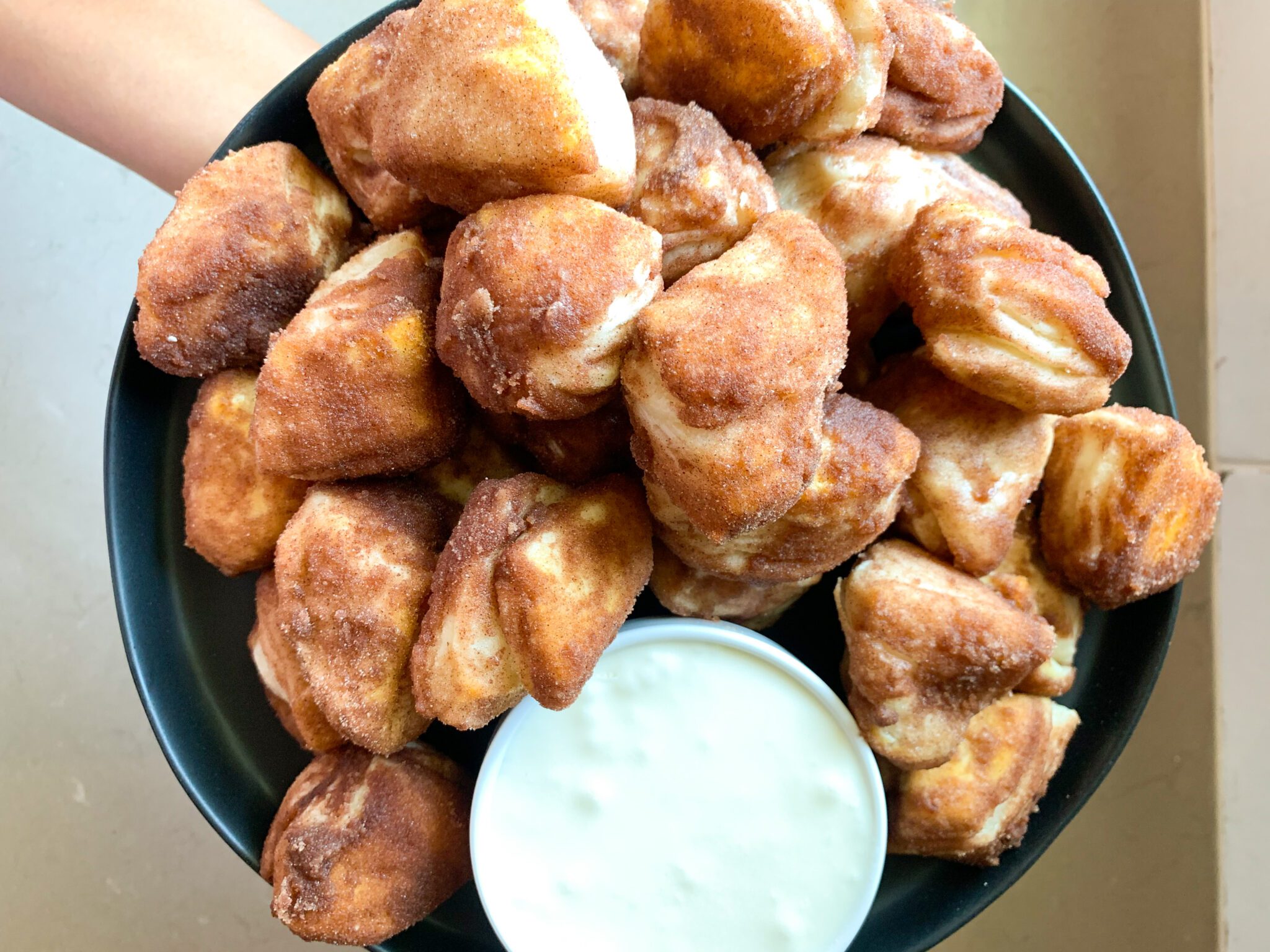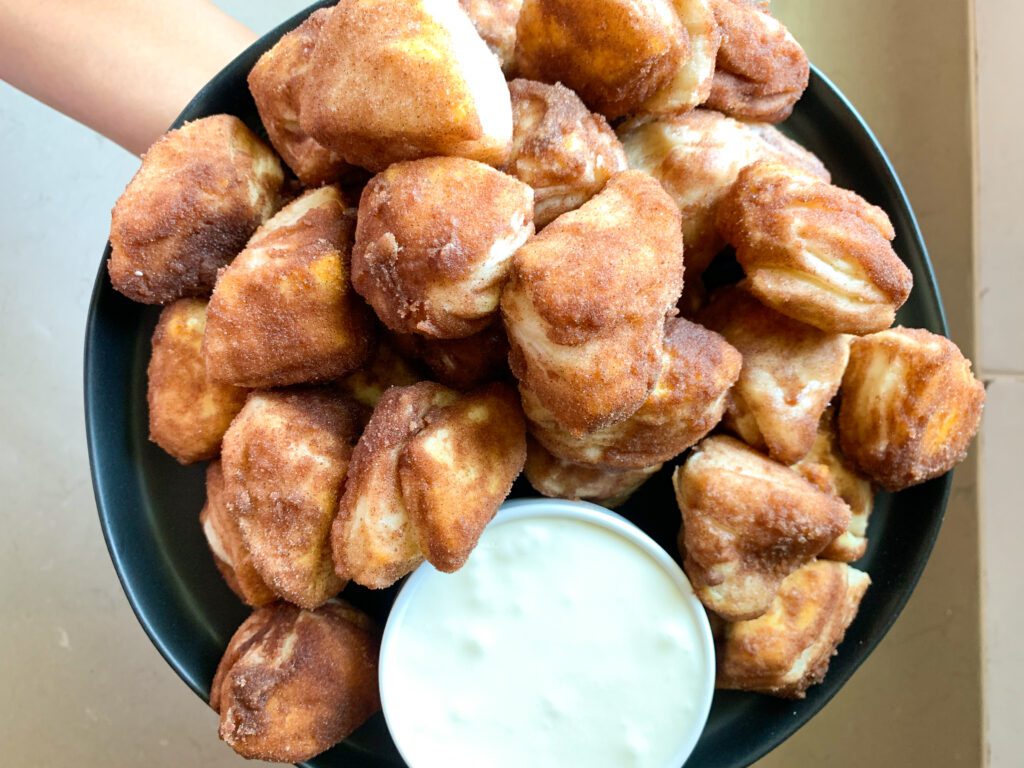 Mmhmm our mouths are watering just thinking about these Cinnamon Sugar Bites! These delicious, melt-in-your-mouth bites are an easier version of cinnamon rolls that you can just pop in your mouth on the way out the door. We warn you though, you may want to make a double batch, because these won't stick around for long!
Ingredients (makes 36)
20 oz tube of biscuits
½ cup + 2 tbsp butter, melted & divided
1 cup sugar
2 tbsp cinnamon
1 cup powdered sugar
1 tsp vanilla
2 tbsp Kreider milk
Instructions
Cut each biscuit into quarters and place on a parchment lined baking sheet about 1" apart.
Bake at 350°F for 7 to 10 minutes or until the bites are just cooked through. (should still be quite pale in color)
While biscuits are baking, melt ½ cup butter and combine cinnamon and sugar in a separate bowl.
Once the biscuits are ready, dip each one into the butter and then into the cinnamon sugar mixture and return to baking sheet.
Return the sheet to the middle rack and broil for 1 or 2 minutes until the cinnamon sugar caramelizes. Watch closely to be sure not to burn. Remove and allow to cool.
For the dipping glaze: In a small bowl, combine powdered sugar, remaining 2 tbsp melted butter, vanilla and milk and whisk until smooth.
Dip your bites into the glaze and enjoy!
Peanut Butter Cereal Bites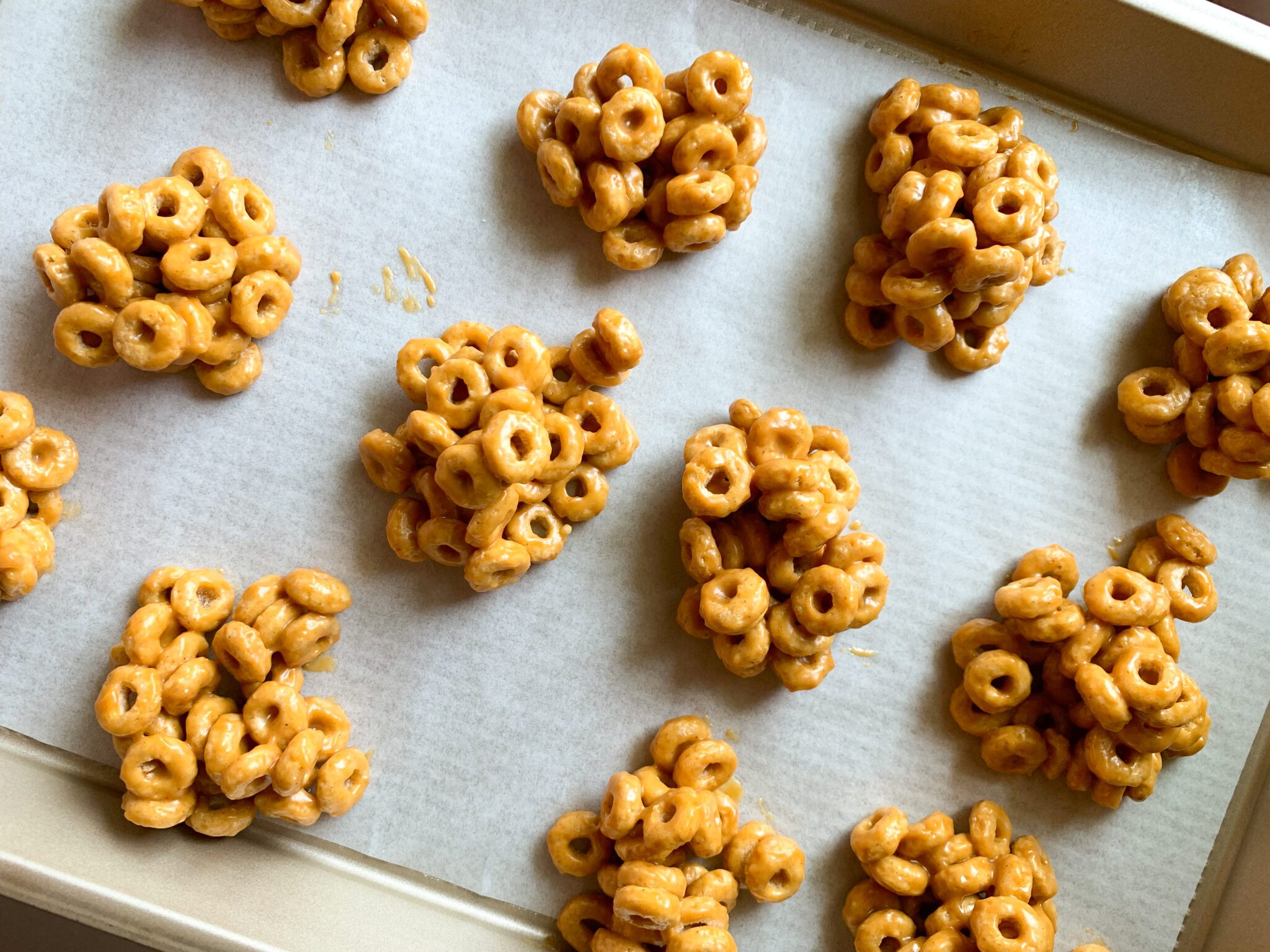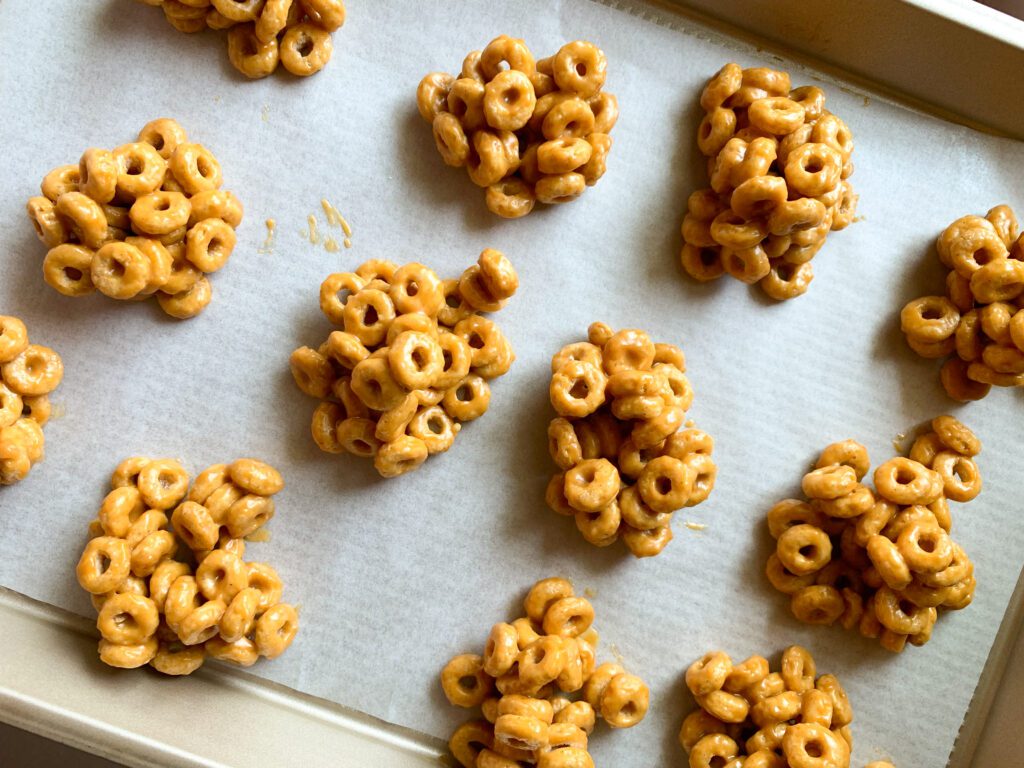 Let's transform cereal into an on-the-go option with these Peanut Butter Cereal Bites. All it takes is 4 simple ingredients and you've got yourself a tray full of peanut butter deliciousness.
Ingredients (makes 18)
½ cup peanut butter
½ cup honey
½ tsp vanilla extract
4 cups plain Cheerios
Instructions
In a microwave safe bowl, add honey and peanut butter. Microwave for 1 minute and stir well until combined before microwaving for an additional 45 seconds.
Add in vanilla and stir well.
In a large bowl, pour peanut butter mixture over Cheerios and gently mix to evenly coat.
Carefully spoon bite sized portions onto a parchment lined baking sheet. Allow to cool and set for a few hours before enjoying!
Crispy Breakfast Cups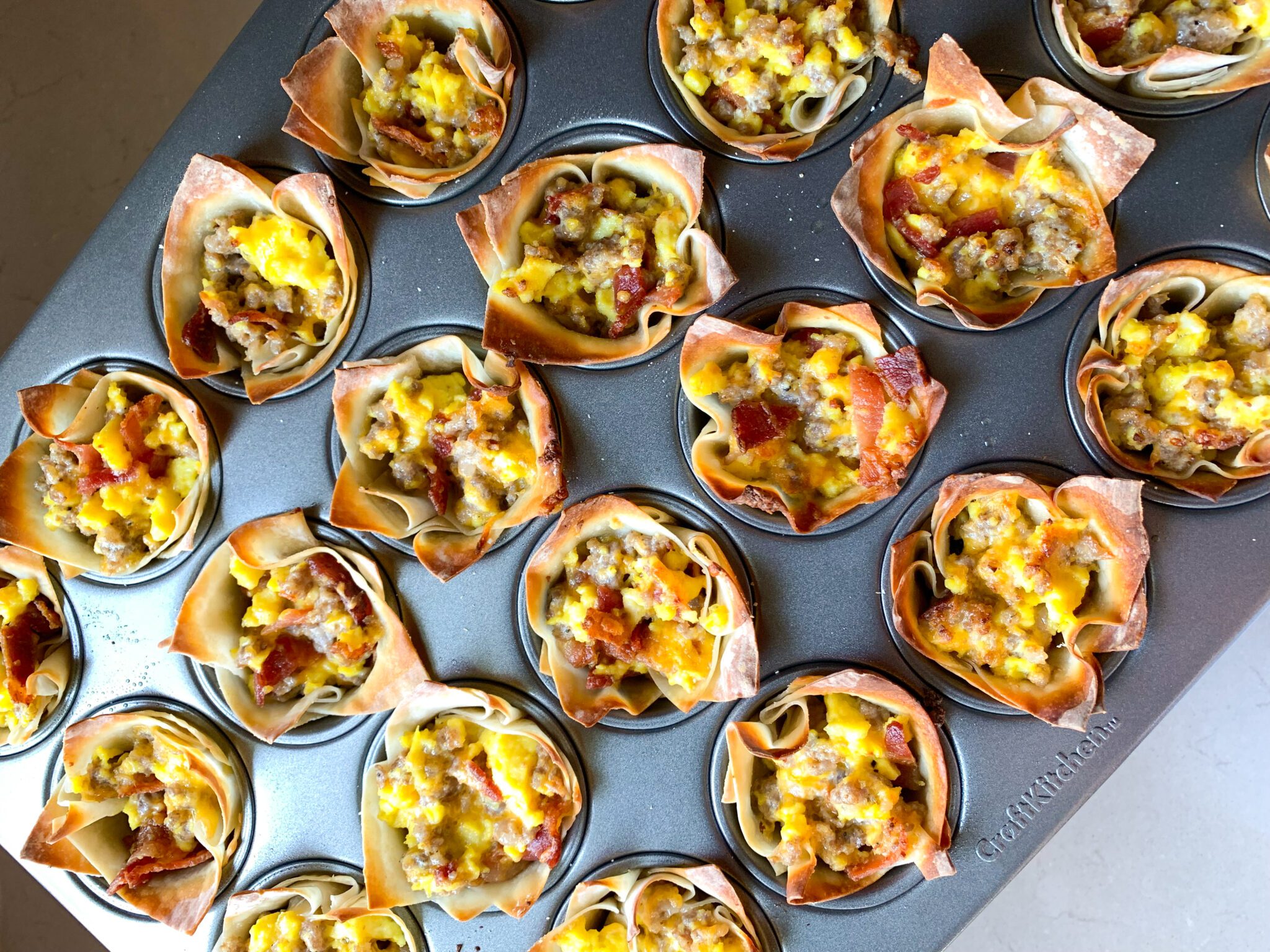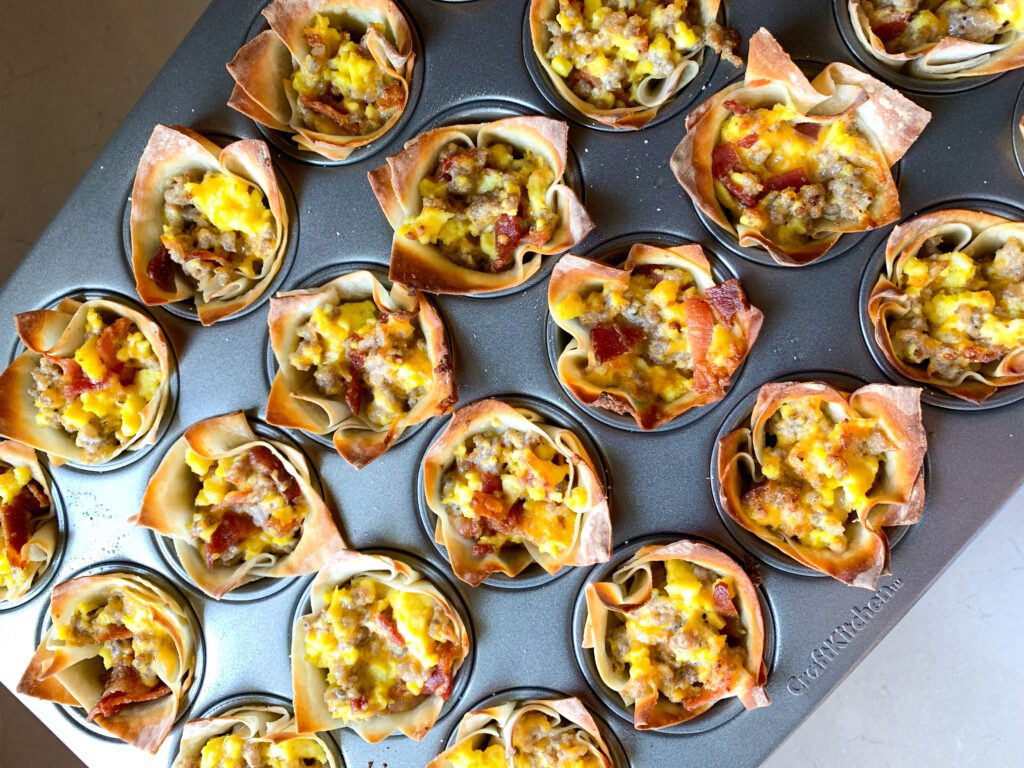 Add some crunch to your breakfast with these Crispy Breakfast Cups that use wonton wrappers as the shells. Stuffed with bacon, sausage and egg, these cups are a protein packed bite.
Ingredients (makes 12)
4 sliced bacon, cooked and crumbled
8 oz breakfast sausage, cooked
3 large Kreider eggs, scrambled
cheddar cheese, shredded
24 wonton wrappers
Instructions
In a bowl, combine you cooked, scrambled eggs, cooked sausage, cooked bacon and shredded cheese. Gently stir until mixture and ingredients are combined.
Lightly grease a mini muffin tin and push a wonton wrapper inside to form the cup. Bake at 375°F for 5 minutes to slightly crisp.
Remove and fill with scrambled eggs mixture and return to the oven for 10 to 15 minutes or until crisp and golden. Allow to cool slightly before removing and enjoying!
Share your Back-to-School Breakfast Bites by tagging @kreiderfarms on Facebook and Instagram. Plus, check out our collection of Back-to-School Breakfast Sammies over on our Noah's Pride blog for more breakfast inspo!