May 2, 2022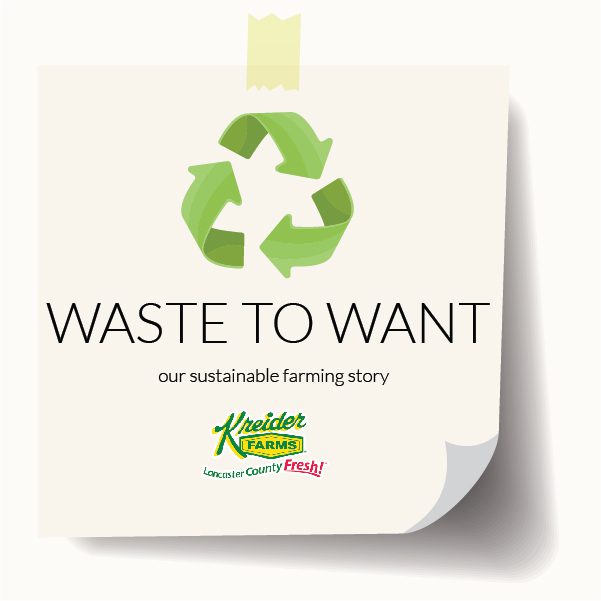 At Kreider Farms we've made being good stewards of the land an essential part of our mission. Our commitment to caring for the environment is seen through our innovative regenerative and sustainable farming practices and investments in technologies that improve waste management, protect precious water resources, and generate clean energy.
Because Kreider Farms is still a real-working farm, we can vertically integrate our farming methods. On our combination egg and dairy farm in Lancaster County, with an abundance of cows and chickens, you can image there is quite a lot of manure, or waste, that accumulates. Hence, waste to want. At Kreider Farms, we have adapted several practices to reuse and recycle both our cow and chicken manure into high quality and nutrient-rich fertilizer for use across our farm.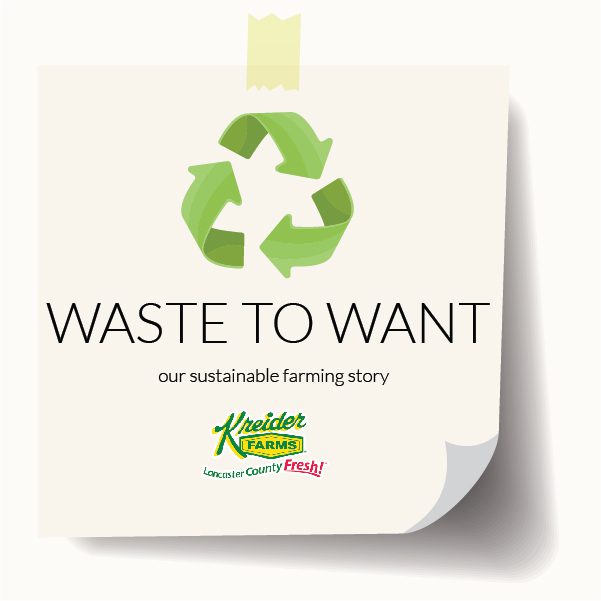 Nutrient-Rich Fertilizer
Like many farms, we utilize our animal waste as a high-quality fertilizer for our fields. On our dairy, our Moo Lagoon is where we treat our herd's liquid waste into bio-available fertilizer for our crops. Increased bioavailability allows our crops to access more nutrients resulting in fewer treatments and less potential runoff into our surrounding watersheds. In our modern chicken houses, daily manure removal belt systems continuously move waste out of the houses where it is dried with ventilation. This allows the manure to retain nutrients while preventing the production of ammonia and greenhouse gasses. Our dried chicken manure is then delivered to farms throughout the Northeastern United States for use as a nutrient-rich fertilizer.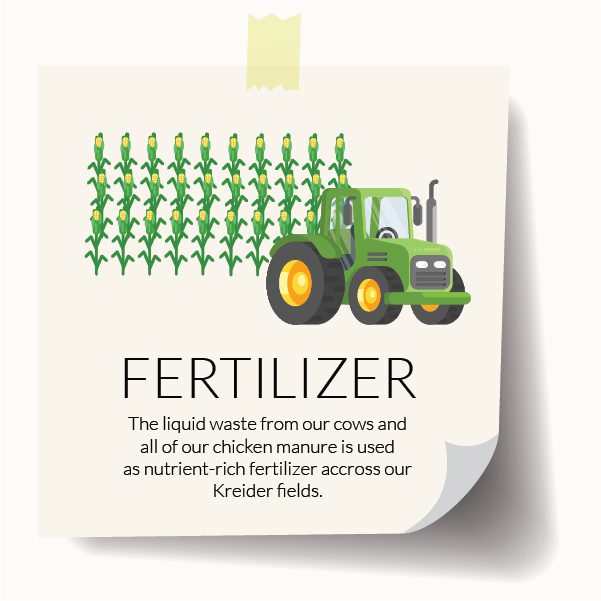 Fluffy Bedding for Our Cows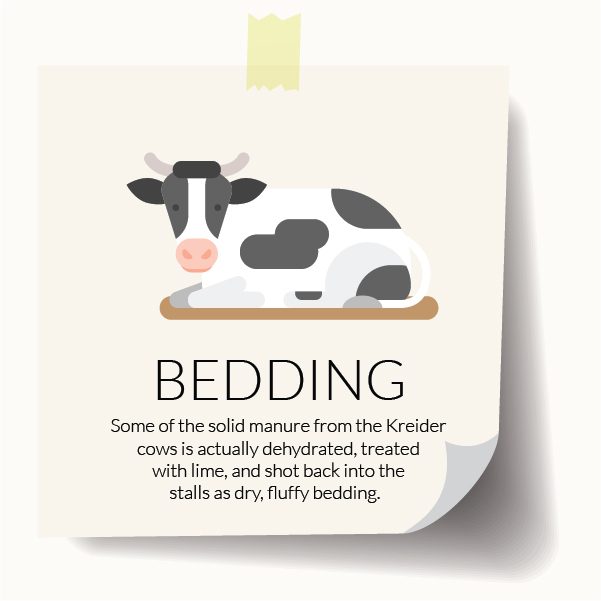 One of our practices that makes us truly unique from other farms, is our recycling of dairy solids into bedding for our cows! Utilizing a large screw press to squeeze out every last drop of moisture, we then treat the dry solids with lime to kill off any leftover bacteria. What we're left with is high-quality, dry, fluffy bedding that our cow's enjoy! Take a look at the process in this video:
Home Gardening Products
Want greener, healthier plants or a greener lawn this season? Then you'll love Kreider Farms premium manure blend and premium potting mix for starting seeds or keeping your hanging or potted plants healthy and green.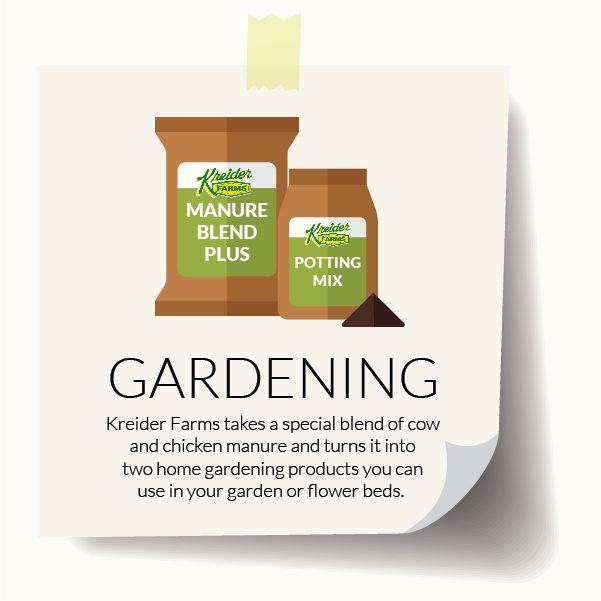 Kreider Farms Dehydrated Manure Blend Plus is a blend of chicken and cow manure straight from the animals on our farm. The product 1-1-1 mixture is a result of our waste recycling, and the process involves reusing and recycling cow and chicken manure into high-quality and nutrient-rich fertilizer for all your at-home garden needs. In addition to producing healthy plants, the Manure Blend enhances water retention, reduces runoff and leaching of nitrates, and increases aeration.
Kreider Farms Potting Mix is an all-purpose potting mix fortified with our special chicken and cow manure blend. This product works great for potted plants and vegetables or for starting seeds before you plant in your main garden. Learn more about our Home Gardening products and where you can purchase them here.
---


Kreider Farms is truly a farm-to-fork company, dedicated to local agriculture and land preservation practices. While we've been implementing these practices for years, we aim to constantly learn and improve our methods as new technologies and information becomes available in the industry. You can learn more about our sustainable farming practices like how we preserve our land, protect our watersheds and generate renewable energy on our Regenerative Farming page.
Plus, come see all our sustainable practices in action on a visit to our farm! Experience the sights, sounds and smells of our dairy farm on our Kreider Farms tour. You'll get a high-tech view of our farm and see first-hand our Cow Pantry, Perfume Factory and Moo Lagoon before taking a drive through our Moo-ternity Barn and Calfing Corner where you might get lucky and even see a little one being born. Advanced reservations are required, so plan your visit today!
---
Make sure to give us a follow on @kreiderfarms on Facebook, Instagram and YouTube to learn more and stay up-to-date on all things Kreider!