July 5, 2021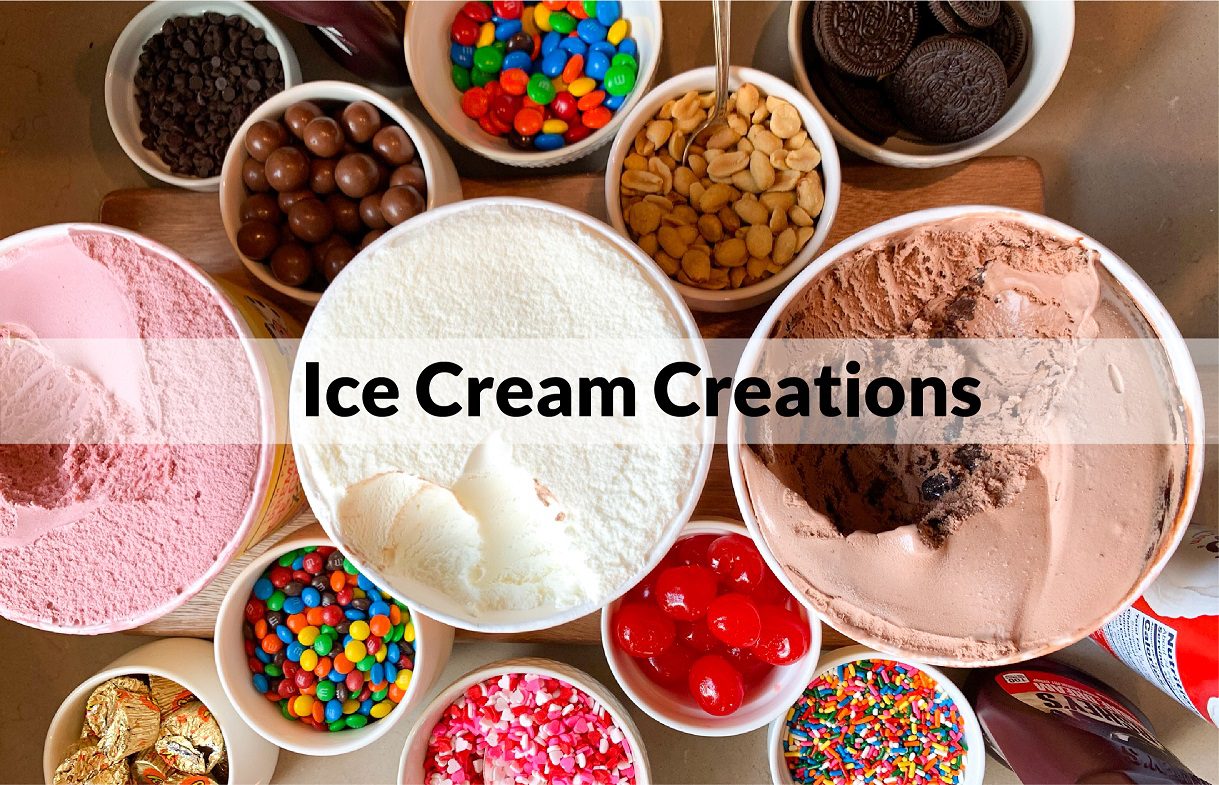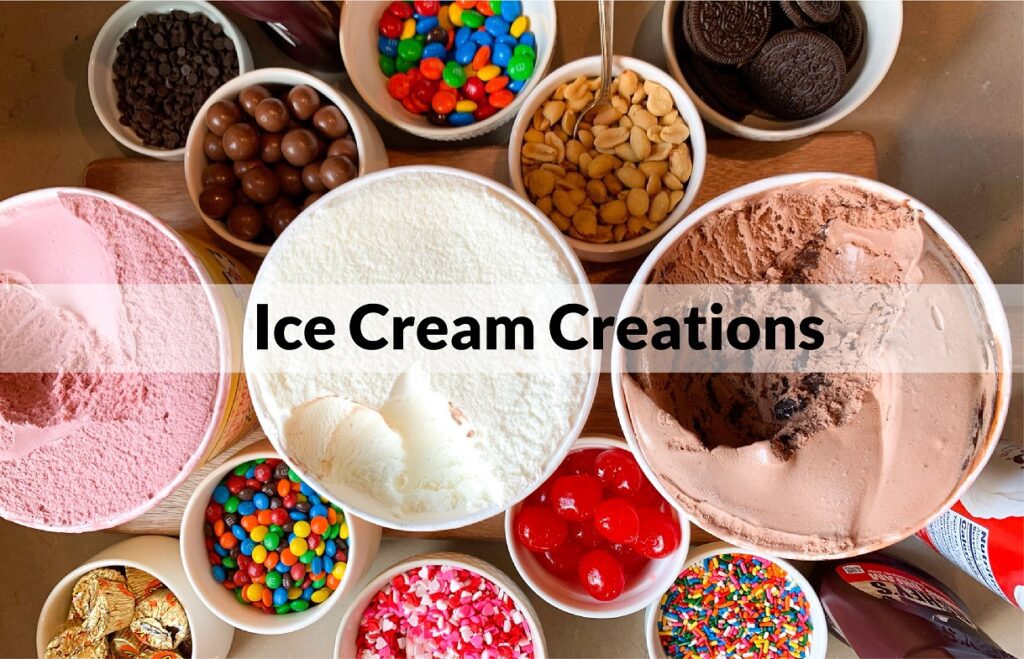 Nothing beats the summer heat like some summer ice cream treats! Which is why it makes sense that July is National Ice Cream Month! While you can never go wrong with a plain scoop or the classic cone, we've compiled these Ice Cream Creations to inspire you to mix it up a bit and get creative with your dessert this month!
The first celebration of National Ice Cream month took place in July of 1984 and was initiated by a Kentucky senator! While the bill that was signed by Ronald Reagan only specified the holiday for that year, the celebration stuck and has continued on every July since – lucky us!
Here's some more quick fun facts about ice cream:
Americans consume an average of 23 gallons of ice cream a year!
According to IDFA, ice cream companies have contributed more than $11 billion and 26,000 jobs to the U.S. economy.
In 2017, more than 1.4 billion gallons of ice cream were produced in the U.S.
Plus, the majority of all U.S. ice cream manufacturers have been in business for more than 50 years, with many still remaining family-owned businesses like Kreider's!
So, join us in celebrating the ice cream industry and America's favorite dessert with these Ice Cream Creations below!
Dipped and Decorated Ice Cream Cones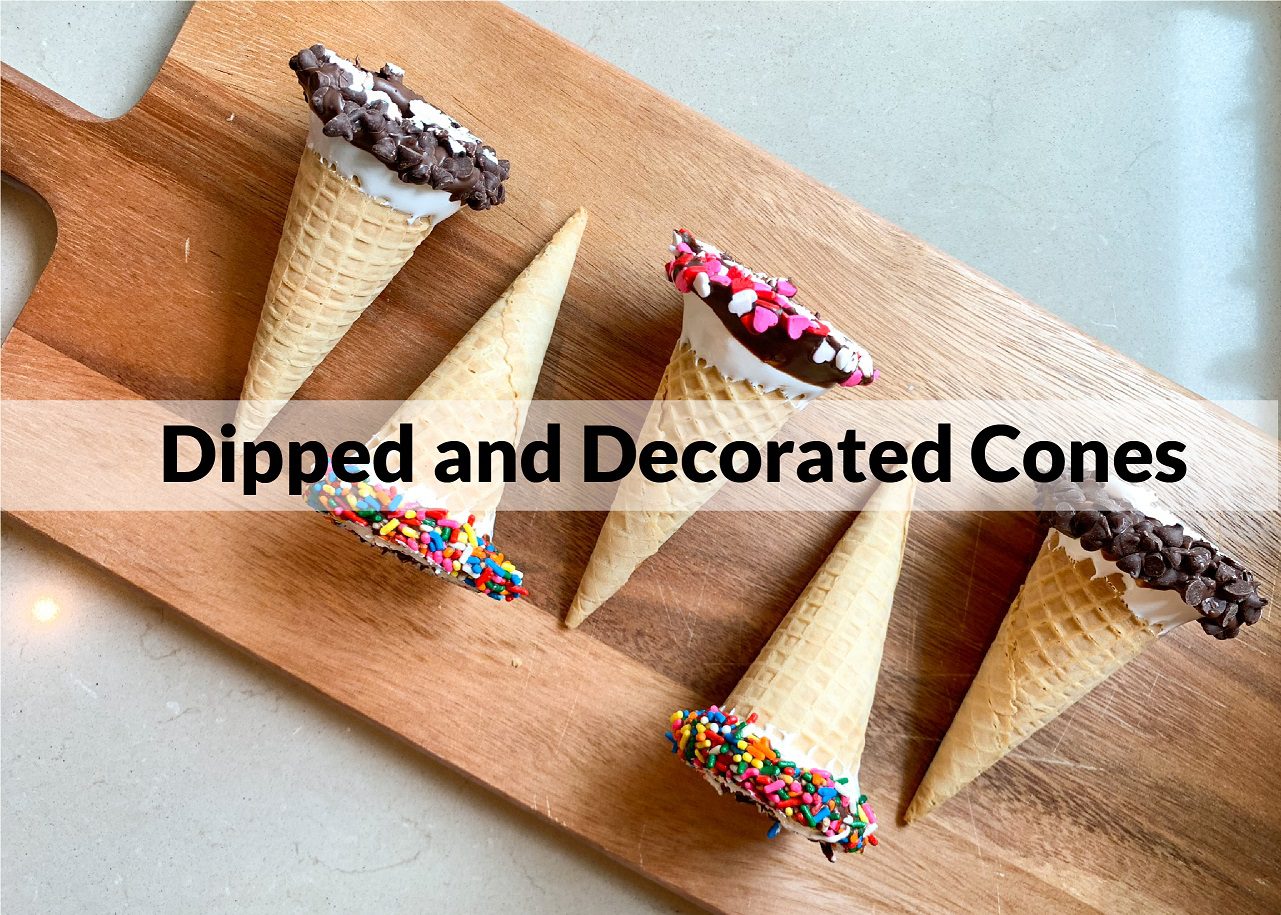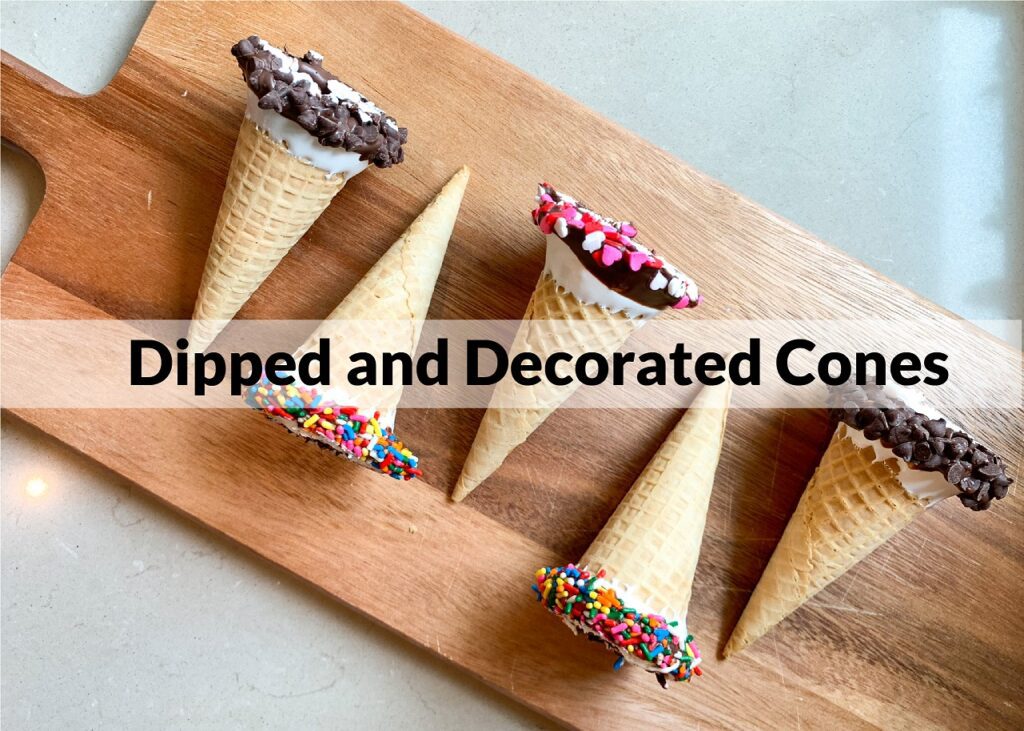 Let's start out easy with these customizable Dipped and Decorated Ice Cream Cones! These are such a fun and simple upgrade to your boring old cones and can elevate all your Ice Cream Creations in a flash. Use your favorite chocolate and toppings to make your own delicious combos or even set up a "make your own" style bar where kids can make and assemble to their liking before filling with their favorite Kreider flavors!
Ingredients (makes 12)
marshmallow fluff or mini marshmallows
semi-sweet chocolate chips
12 sugar cones or waffle cones
sprinkles and toppings of choice
Kreider's ice cream
Instructions
In a microwave safe bowl, heat your marshmallow fluff or mini marshmallows in 15 second intervals, stirring well in-between, until melted and smooth.
One by one, take each cone and dip, rim side down, into the marshmallow mixture to coat. Set on a parchment lined baking sheet for about 10 minutes until set.
In another microwave safe bowl, heat your chocolate at 20 second intervals, mixing well in-between, until fully melted.
Once the marshmallow has set on the cones, carefully dip each rim into the chocolate. Sprinkle immediately with sprinkles or other desired toppings while the chocolate is still melty.
Allow to sit again, on the parchment lined sheet, to set and allow chocolate to completely cool and harden.
Scoop in your favorite Kreider flavors and enjoy!
Hot Fudge Nachos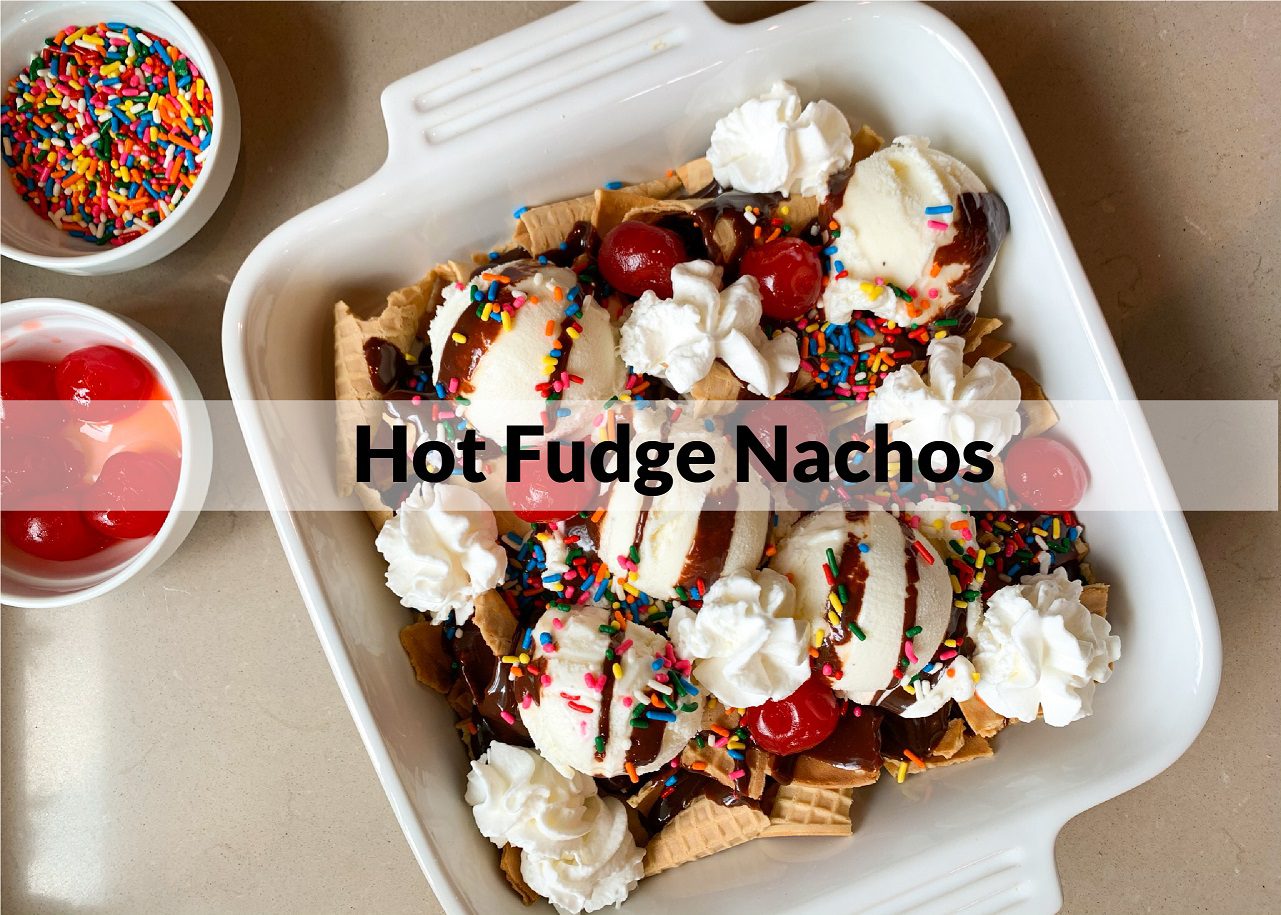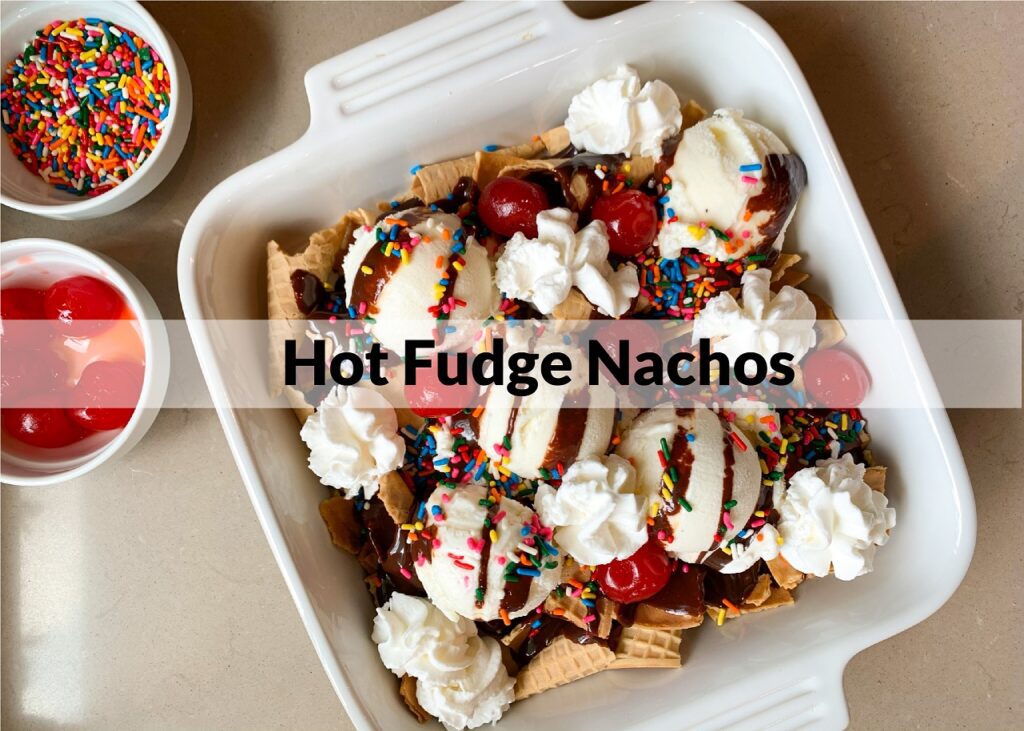 Everybody loves nachos, but these Hot Fudge Nachos put a dessert twist on a fan favorite! Plus, just like regular nachos, these are perfect for sharing, which makes the a great option if you just don't want to eat an entire ice cream sundae by yourself (although we totally wouldn't blame you if you did!) We kept ours pretty classic here with vanilla ice cream, chocolate fudge and some cherries, but feel free to get creative and mix it up with crushed peanuts, cookie pieces and your favorite Kreider flavors!
Ingredients (makes 1 tray or bowl)
sugar cones, roughly broken into larger pieces
hot fudge
Kreider's vanilla ice cream
whipped cream
sprinkles and other toppings of choice
maraschino cherries
Instructions
On a large baking sheet, tray or bowl, add your roughly crushed sugar cone pieces in a single layer. Try to keep your pieces larger, as these will be what is used as your "chips."
Drizzle half a container of hot fudge over the nachos before topping with scoops of your favorite Kreider ice cream.
Drizzle remaining hot fudge, and top with whipped cream, sprinkles and cherries!
Ice Cream Charcuterie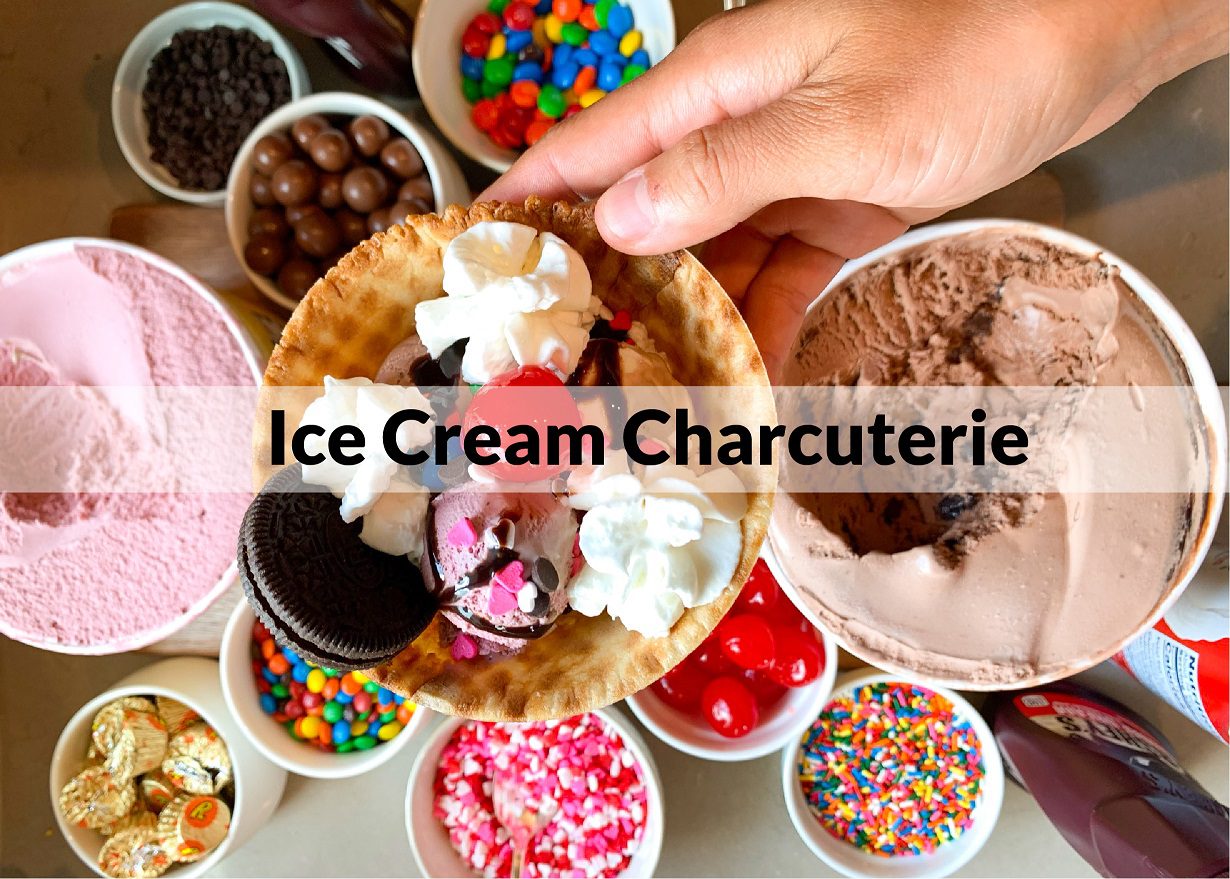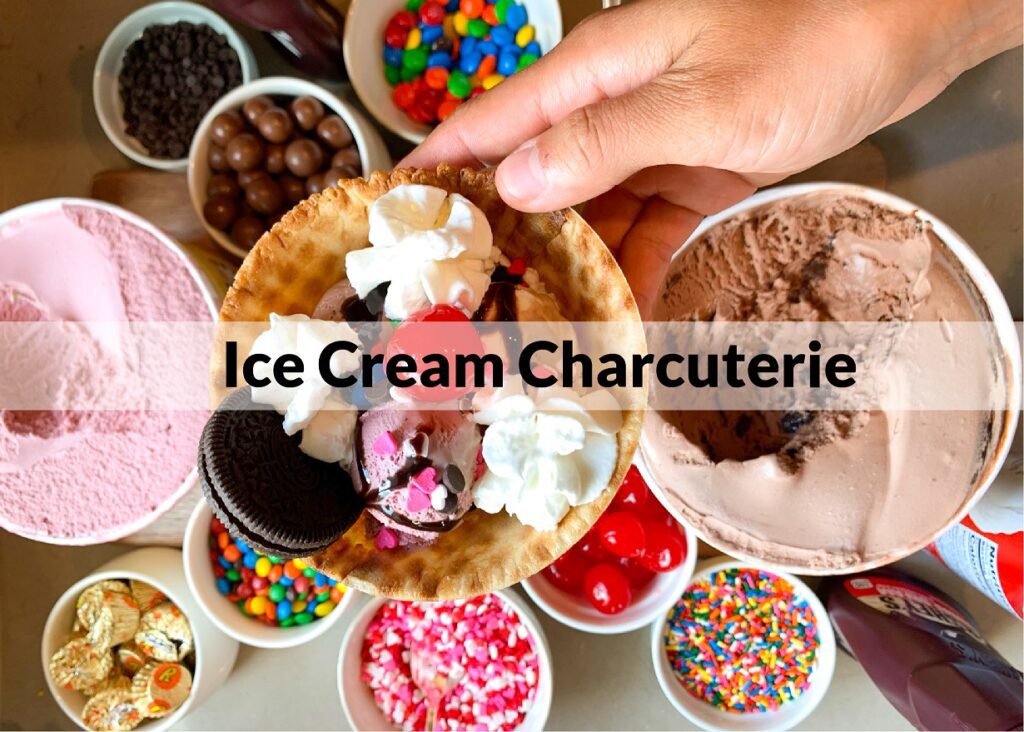 Charcuterie boards have taken over the internet and people are getting all kinds of creative with the way they think of these popular grazing boards! Next up in our lineup of Ice Cream Creations is a dessert take on the Parisian classic; think a "build-you-own" ice cream bar but more Instagram-worthy! This style of serving works great for parties so that everyone can make and create their own delicious treats to their liking.
Ingredients
Kreider's ice cream
ice cream toppings of choice
Instructions
Starting with a large board, find a smaller tray that will fit nicely in the middle that still allows some room around it. Fill the tray with ice and place your ice cream selection on top.
Using smaller mason jars or dishes, fill each with various toppings, fudges, and sauces and fill in the space around the ice cream.
Serve up and let the creations begin!
Banana S'mores Sundae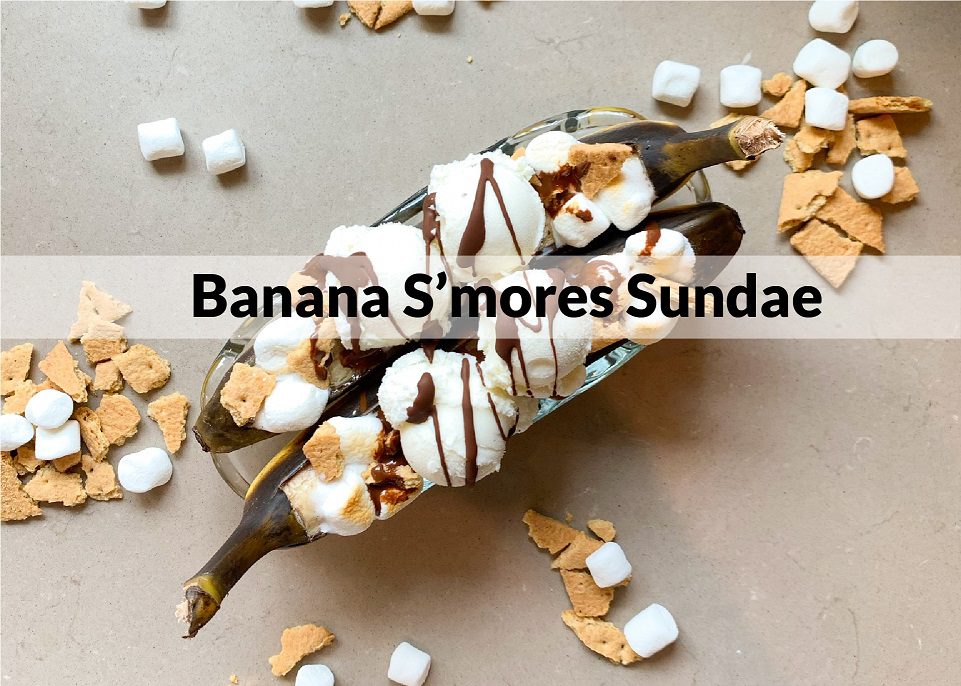 Emulate a summer night by the campfire in the next of our Ice Cream Creations with this Banana S'mores Sundae! Using the banana as your dish, these sundaes make the clean up process a little easier and are perfect for eating outdoors!
Ingredients (makes 2)
3 bananas – 2 for serving, 1 for garnish
2 tbsp turbinado sugar
mini marshmallows
graham crackers, roughly crumbled
chocolate syrup
Kreider's ice cream
Instructions
In 2 bananas, use a knife to carve out the tops (lengthwise) to create a "boat." Sprinkle with sugar and melt using a blowtorch or broiler.
Add some mini marshmallows on either end of the banana boat and lightly torch again until soft. Sprinkle with crushed graham cracker and chocolate syrup.
In empty middle part of your banana boat, add 1 scoop of your favorite Kreider's ice cream and drizzle with more chocolate syrup.
Top with additional banana slices if desired and enjoy!
Cream Puff Sundae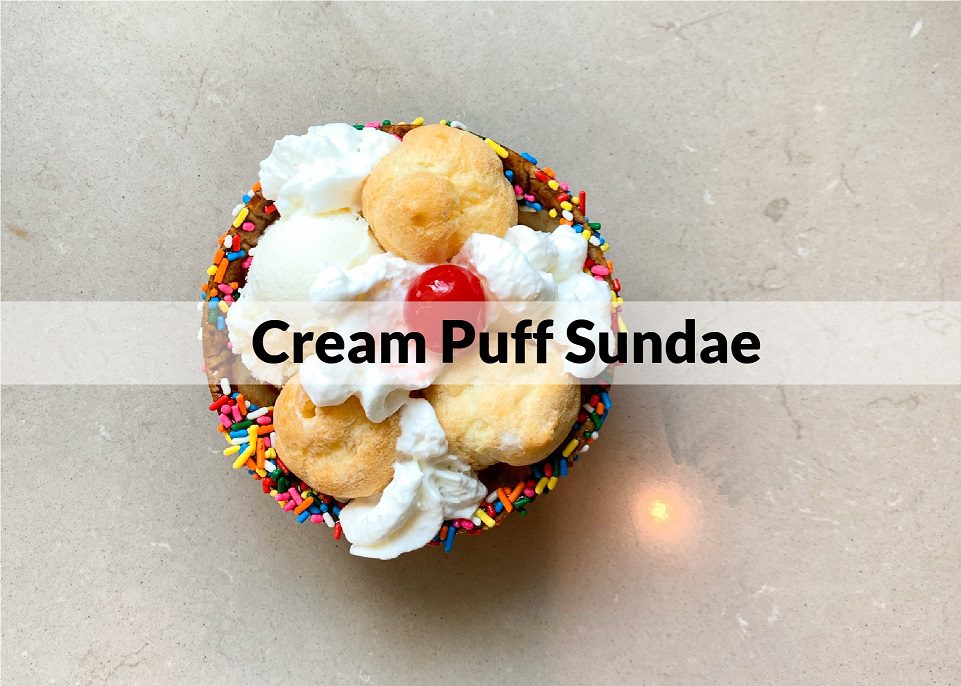 Make your average sundae more interesting by adding some cream puffs! This Cream Puff Sundae is so easy to whip up, plus its in an edible bowl!
Ingredients (makes 1)
waffle bowl
3 mini cream puffs
Kreider's ice cream
whipped cream
sprinkle
maraschino cherries
Instructions
Carefully dip the rim of the waffle bowl into caramel sauce, then roll into sprinkles until coated.
Fill the bowl with 3 cream puffs, ice cream and top with whipped cream, sprinkles and a cherry!
We hope these Ice Cream Creations have inspired you to get creative this July! Get out there and celebrate National Ice Cream Month with us and share your favorite ice cream treats with us by tagging @kreiderfarms on Facebook and Instagram. This month, east ice cream any chance you get!