June 1, 2021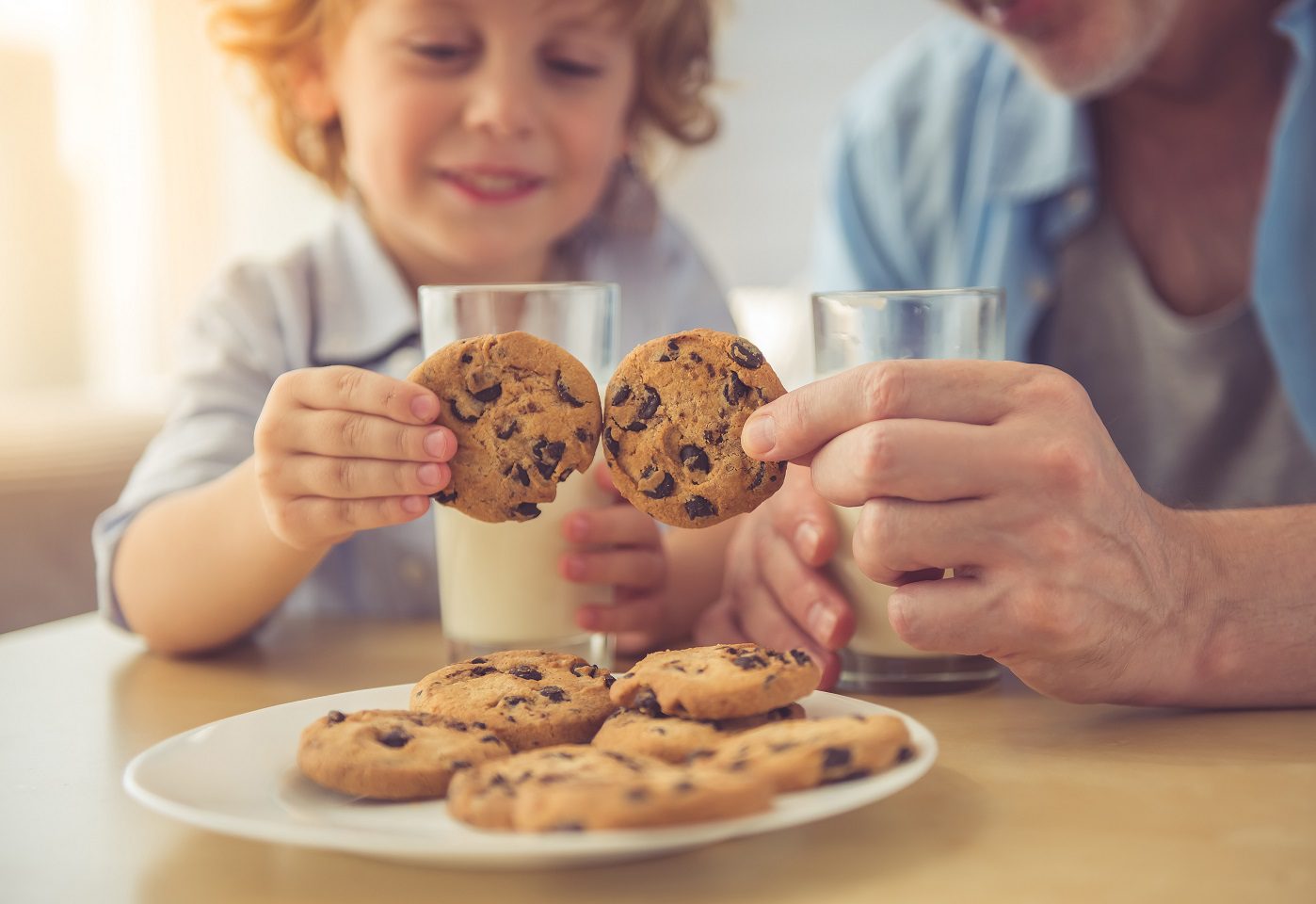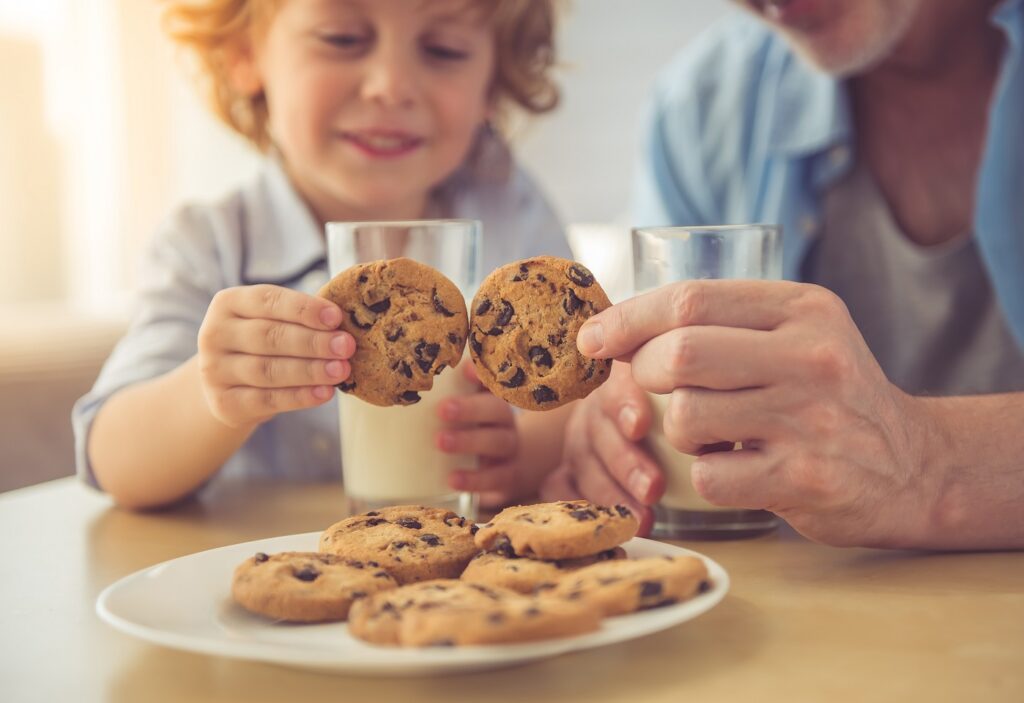 June is National Dairy Month, and nothing goes better with milk than cookies! That's why we've compiled these Milk & Cookies combos to inspire you to kick off your summer with the nutrient-rich benefits of real dairy in a fun (and delicious) way!
Did you know that only real milk is a good source of all 9 essential nutrients including calcium, potassium and vitamin D? Those other "dairy alternatives" and "milk imitators" out there have to add a long list of additives and preservatives to their products in hopes of even coming close to the natural taste and texture of real milk.
It's so important to support your local dairy farmers all the time, but we hope National Dairy Month will inspire you even a little more to pick up the real (good) stuff next time you're in the store. At Kreider Farms, we are proud to still be a truly, farm-to-fork dairy, where we grow our own feed, milk our own cows and process our own milk right here in Lancaster County, PA. Doing everything right here on our farm, allows us to lock in freshness and get our milk out the door to you in the shortest time possible!
So, head to the store, grab a gallon of Kreider's farm fresh milk, and enjoy with one of these 8 Milk & Cookies combos!
Cookie Cups
Why dip your cookies in your milk when you can drink your milk from your cookies?! These Cookie Cups are oh so fun and just as delicious! Make these with your favorite cookie dough recipe or just pick up your favorite pre-made dough from the store like we did! The trick to keeping these guys intact is to make ahead and keep in the freezer until you're ready to use. This will make the removal process from the silicon mold much easier and will also help the glasses to keep their shape after you fill with milk. Plus, you can easily customize these cups by switching out your favorite cookie dough or dip the rims in chocolate and coat with sprinkles or chocolate chips for even more fun!
Ingredients (makes 4 cups)
cookie dough
nonstick cooking spray
sprinkles and chocolate chips (for garnish)
Instructions
Start by generously coating your silicon mold with non-stick cooking spray. (This will help with the removal process later.)
Carefully scoop, and press the cookie dough into each mold, smoothing with your fingers to ensure that there are no gaps or holes. Keep some space between the height you make the walls of your cups and the top of the mold, as the cookie dough will expand a bit as it is baked.
Place your cookie dough filled mold on a baking sheet and bake at 350°F for 20 to 25 minutes or until the tops start to darken and turn golden brown. What we are looking for is a crispy surface, so that when a knife is inserted, will come out clean. Unlike the ooey gooey consistency that we prefer regular cookies, we want these cups to be firmer to hold their shape.
Remove from oven and level off any dough that may have puffed up over the rim of the molds. Allow to cool completely and then freeze for several hours until cups are completely hardened.
Before serving, remove from freezer and carefully separate the cups from the molds. Using a small brush of spatula, take some melted chocolate, and evenly coat the entire inside of the glass. Return to freezer for 20 minutes to allow chocolate to harden.
When you're ready, let the cookie sups sit for 10 minutes at room temperature to slightly soften. Decorate and garnish the rims (if desired) before filling with Kreider Farms milk and enjoying!
Cookie Bark
The next treat on out list of Milk & Cookie combos is: Cookie Bark! This bark truly looks like milk and cookies and is simple to make and only uses two ingredients! It's a great, fun treat to have on hand or to pack on the go to enjoy as a snack with some Kreider chocolate or strawberry milk!
Ingredients (makes 1 sheet)
1 package white chocolate melts (12oz)
1 cup Cookie Crisp™ cereal
Instructions
In a microwave safe bowl, heat chocolate in 30 second increments, stirring in-between, until completely melted, about 2 minutes total. Stir well until there is a smooth consistency and no lumps.
Spread the melted chocolate onto a parchment lined baking sheet to about ¼" thickness. Immediately sprinkle cereal on top and gently press into the melted chocolate.
Allow to harden and cool for about 30 minutes. Break into pieces and store at room temperature.
Milk & Cookie Pops
As the temperatures rise, these frozen, Milk & Cookie Pops are the perfect treat to hit the spot and beat the heat! The great thing about these pops, is that they don't get icy and freeze to a creamier consistency that makes them oh so good! We stuck to plain old chocolate chip cookies, but use your favorite cookies to mix things up and try different combos!
Ingredients (makes 6)
silicon popsicle molds and sticks
6 medium sized chocolate chip cookies
1 cup Kreider's whole milk
2/3 cup sweetened condensed milk
1/2 tsp vanilla extract
Instructions
Combine whole milk and sweetened condensed milk and microwave for 60-seconds. Stir until well combined before adding vanilla.
Break and crumble your cookies into small chunks and pieces and sprinkle evenly into the molds.
Pour the milk mixture into each mold, and carefully insert popsicle sticks. Place into freezer until frozen solid, then enjoy!
Cookie Layer Cake
This three-layer Cookie Cake has three layers of fluffy vanilla cake dotted with chocolate chips with lots of crumbled cookie sprinkled in-between! This Milk & Cookie combo would serve as the ultimate birthday cake for the cookie lover, or serve it up as the perfect weekend treat for a crowd!
Ingredients (makes 1 cake)
For Cake
3/4 cup butter, room temp
3/4 cup sugar
3/4 cup brown sugar
3 tsp vanilla
1/2 cup sour cream
3 eggs
2 1/2 cups flour
2 3/4 tsp baking powder
1/2 tsp salt
1/2 cup Kreider's milk
1/4 cup water
1 1/4 cup mini chocolate chips
For Frosting
1 1/4 cup butter
1 1/4 cup shortening
9 cups powdered sugar
1 1/2 tsp vanilla
6 tsp Kreider's milk
For Filling
1 package chocolate chip cookies
1/2 cup Kreider's milk
chocolate chip cookies, for decoration
mini chocolate chips, for decoration
Instructions
Cake
In a large bowl, cream butter and sugars together until light and fluffy, about 3-4 minutes.
Add in sour cream and vanilla, mixing until well combined.
Add eggs, one at a time, mixing well after each addition.
In a separate bowl, combine all dry ingredients. In a separate measuring cup, combine milk and water.
Start by adding half of the dry ingredients to the batter and mix thoroughly. Then add in the milk mixture, combining well, before adding the remainder of the dry ingredients. Fold in mini chocolate chips.
Divide batter evenly into 3, 8-inch, parchment lined and greased cake pans. Bake at 350°F for about 20 minutes or until completely set.
Remove and allow to cool completely to room temperature.
Frosting
Beat together butter and shortening in a large bowl until smooth.
Slowly add half of the powdered sugar, then add vanilla and 5-6 tbsp of milk, mixing until smooth.
Add remaining powdered sugar, mixing consistently, adding additional milk as needed.
Assembly
Before starting, make sure all cake rounds are level, cutting off excess as needed.
Start with your first cake round, and pipe icing along the edge of the cake, creating a dam. Then, take the milk for the filling and add several crumbled cookies until all milk is absorbed. Spread this cookie crumble mixture inside of the icing dam you just created.
Add a thin layer of icing on top of the cookie mixture, and then add your second layer and repeat.
Top the cake with your third round and frost cake with remaining icing.
Decorate with additional chocolate chip cookies and chocolate chips as desired and enjoy!
Cookie Cereal
You may have seen this viral trend going around on Tik Tok in past months, but we decided to put it to the test! Take Milk & Cookies to the next level with this homemade cookie cereal (so much better than the store-bought version) and indulge in sugary-breakfast goodness! You can use your from scratch cookie dough or just use the store bought stuff like did to save on time!
Ingredients (makes 4 servings)
cookie dough
Kreider's milk
Instructions
On a parchment lined baking sheet, roll room temperature dough into ½ tsp sized balls and spread evenly. Refrigerate on the pan for 15 minutes to set.
Bake cookies at 325°F for about 8 minutes or until the edges start to look golden brown and set, we will want these to be on the crispier side since we will be enjoying in milk!
Once cooked, remove and let cool to room temperature before adding to a bowl and enjoying in milk!
Chocolate Chip Cornflake Marshmallow Cookies
How have we made it this far in a Milk & Cookies combo blog without a good 'ole cookie recipe? Well we promise these loaded Chocolate Chip Cornflake Marshmallow cookies will be well worth the wait and are so delicious straight out of the oven and dipped into a tall, cool glass of Kreider's milk! The key to these cookies is the cornflake crunch which adds a chewy and crunchy texture to the cookies.
Ingredients (makes 20 cookies)
For Cookies
1 cup butter, room temp
1 1/4 cup sugar
2/3 cup brown sugar
1 large egg
1/2 tsp vanilla
1 1/2 cups flour
1/2 tsp baking powder
1/2 tsp baking soda
1 1/2 tsp salt
3 cups cornflake crunch (recipe below)
2/3 cups mini chocolate chips
1 1/2 cups mini marshmallows
For Cornflake Crunch
5 cups cornflakes
1/2 cup malted milk powder
2 tbsp sugar
1 tsp salt
9 tbsp butter, melted
Instructions
Cornflake Crunch
Using your hands, crunch cornflakes into small pieces in a large bowl. Add malted milk powder, sugar and salt and combine.
Add the melted butter and toss until coated, small clusters will begin to form.
Spread cornflake mixture in an even layer on a parchment lined baking sheet. Bake at 275°F for about 20 minutes or until it starts to look crunchy. Allow to cool completely before using in cookies.
Cookies
In a large bowl, combine butter and sugars until creamed together. Add in egg and vanilla and beat until well incorporated and combined.
While continuously mixing at low speed, add flour, baking powder, baking soda and salt, mixing until just combined (don't overmix.)
Fold in the cornflake crunch, chocolate chips and marshmallows until evenly combined.
Shape your cookies onto a parchment lined baking sheet, leaving ample space between each cookie. Cover tightly with plastic wrap and refrigerate for at least 2 hours.
When ready, bake at 375°F for 10 minutes until cookies just begin to brown. Enjoy right out of the oven or allow to cool completely before storing.
Cookies & Cream Milkshake
Everyone knows that cookies go great with milk, and milk goes great with cookies, but what goes even better is cookies blended with milk! Our next Milk & Cookies combo is, of course, a milkshake! While we kept it cookie themed here and went for the classic cookies & cream, you can substitute your favorite ice cream flavor!
Ingredients (makes 2)
6 oreo cookies
1 1/2 cups Kreider's French Vanilla ice cream
1/4 cup Kreider's milk
2 tsp vanilla
whipped cream, for serving
maraschino cherries, for serving
Instructions
In a blender, crush cookies with a few pulses. Then, add ice cream, milk and vanilla extract. Blend until smooth.
Split between two glasses, top with whipped cream and garnish with a cherry! Cheers!
Cookie Lasagna
Finishing off strong, we may have saved the most fun for last! We thought, let's take the dinner classic, but make it into a Milk & Cookies combo! This Cookie Lasagna is perfect for a party or a crowd, but don't count on having any leftovers to bring home!
Ingredients (makes 1)
2 packages soft cookies
1 1/2 cups Kreider's milk
2 containers Cool Whip
hot fudge sauce
Instructions
In an 11×7 glass baking dish, add a flat layer of milk dipped cookies, covering the bottom.
Add a layer of cool whip and repeat the process until you reach the top of the pan.
Top off with a drizzle of hot fudge and leftover cookie pieces.
Refrigerate for at least 6 hours to set before serving!
Just remember, when you choose real dairy, you are not only benefitting yourself; you are benefitting the farmers and dairymen across the country that put food on your table. These farming families, like ours, work hard every day to ensure that we can deliver you the farm fresh goodness and nutrition that only real milk can offer!
We hope these Milk & Cookie combos has inspired you to get creative with the way you drink milk, and if you make any on your own, we'd love to see! Share with us you National Dairy Month treats by tagging @kreiderfarms on Facebook and Instagram. This month, be sure to choose real dairy products and thank a farmer!