August 2, 2021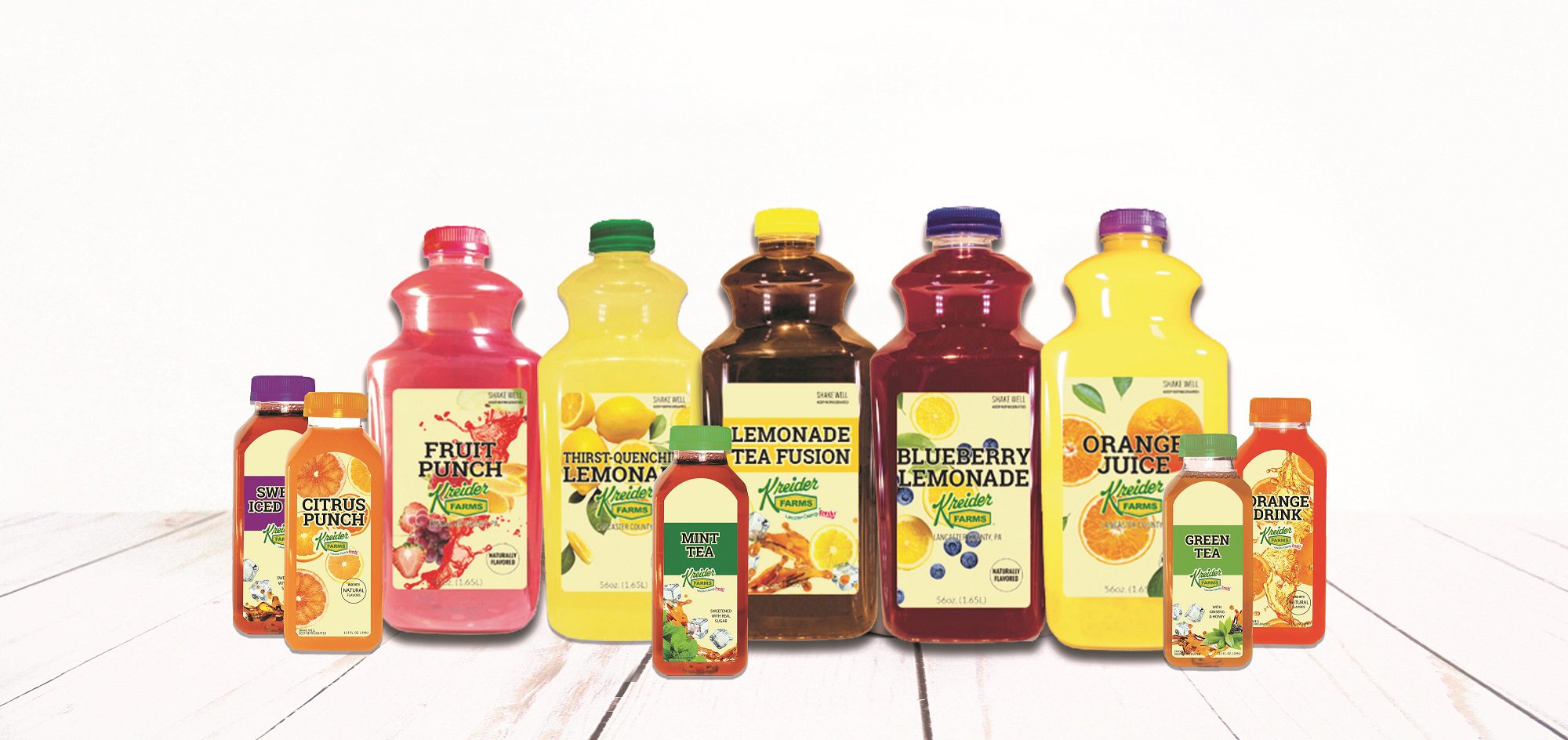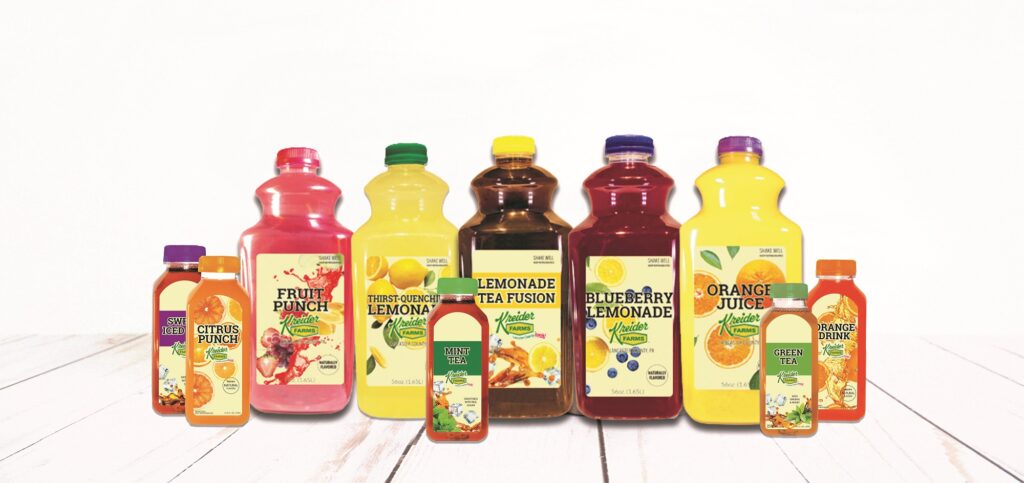 In June we celebrated dairy, in July we highlighted ice cream, and so for August, we thought it only appropriate to finish out the summer with a collection of End of Summer Mocktails featuring our refreshing line of drinks and lemonades!
When most people think of Kreider Farms, they immediately think of our farm fresh milk or creamy, rich ice cream. But, did you know we also have a complete line of premium, refreshing teas, drinks and lemonades in convenient grab-and-go 13.5oz single serve sizes as well as a larger 56oz size for sharing?
In the heat of August, our drinks are perfect for quenching your thirst on their own, but we thought we'd give you a few recipes to mix things up for the last hoorahs of summer. Plus, most of our drinks are all-natural with no artificial colors, flavors or preservatives which means you can sip in confidence!
So, give some of our End of Summer Mocktails below a try for your next summer gathering or cookout! Plus, if you're looking for even more ice cold, refreshing inspiration, check out our Chiques Creek Hemp Tea drink collections here or here.
Citrus Lime Mint Mocktails
Our Citrus Punch is the perfect mix of citrus flavors, but let's elevate it by adding some refreshing hints of mint and a tartness of lime. The secret is the home-made simple syrup made with honey and fresh mint leaves! Make it ahead of time and keep in the fridge to use when you're ready!
Ingredients (makes 2)
2 cups water
fresh mint
½ cup honey
Kreider Farms Citrus Punch
½ cup lime juice
sliced limes, for garnish
mint leaves, for garnish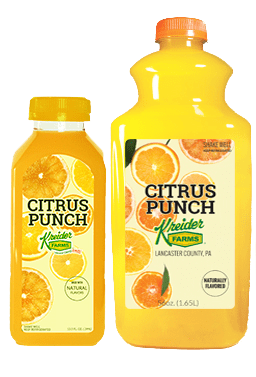 Instructions
In a small pot over medium-high heat, bring water to a boil. Add mint and continue to boil for 5 minutes.
Remove from heat and gently stir in honey. Cover and steep for 15 minutes to create your simple syrup. Strain and set aside.
In a glass filled with ice, fill ½ way with simple syrup and top off with Kreider Farms Citrus Punch and 2 tbsp of lime juice.
Garnish with sliced lime and mint leaves and enjoy these refreshing Citrus Lime Mint Mocktails.
Frozen Mango-Lime Ritas
This next End of Summer Mocktail is made with one of our fan favorites: our Peach Mango Lemonade. The thing is, we only offer this lemonade for a limited time in the spring and summer so go out and stock up before it's all gone! This frozen, blended goodness is topped off with a spicy rim that brings the heat and adds a little unexpected kick.
Ingredients (makes 2)
limes
fresh mint
Tajin
Kreider Farms Peach Mango Lemonade
frozen mango
sliced limes, for garnish
fresh mint, for garnish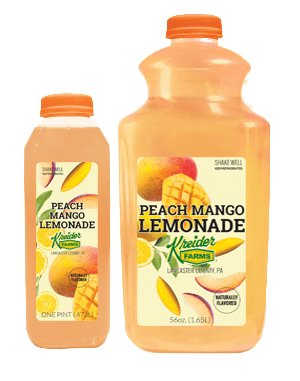 Instructions
Start by preparing your glasses by wetting the rims with lime juice and dipping in Tajin, set aside.
Add a handful of fresh mint leaves and the juice of 2 limes to a cocktail shaker and muddle. Strain and set aside.
Add 1 cup Kreider Farms Peach Mango Lemonade, 1 cup of frozen mango and muddled mint lime juice to a blender and blend until smooth. Add additional lemonade if needed.
Pour into your prepared glasses and garnish with fresh lime wedges and mint leaves before serving.
Orange Mocktails
Make a statement with this next End of Summer Mocktail featuring our Orange Drink. The electric color makes this fun drink stand out, plus it's super easy to make! All you need is 3 simple ingredients and you're ready to rock and roll!
Ingredients (makes 2)
Kreider Farms Orange Drink
fresh mint
sparkling water
orange slices, for garnish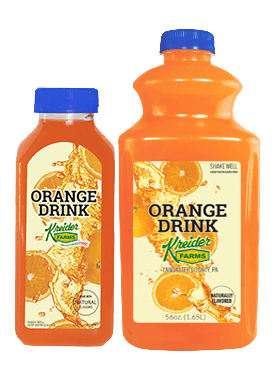 Instructions
Fill your glasses halfway with Kreider Farms Orange drink and add 5-6 fresh mint leaves to each glass, stir.
Top off with sparkling water and a fresh orange slice for garnish. Sip and enjoy!
Blueberry Lemonade Spritzers
Another Kreider Farms favorite you can't go wrong with is our Blueberry Lemonade, and this one is available all year round. Lighten it up a bit with some fresh mint and sparkling water for the perfect, refreshing End of Summer Mocktail.
Ingredients (makes 2)
fresh blueberries
fresh mint
Kreider Farms Blueberry Lemonade
lemon wedges, for garnish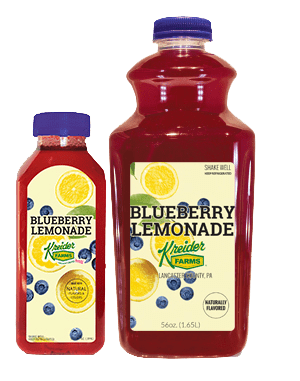 Instructions (makes 2)
Muddle a handful of fresh blueberries and 5-6 mint leaves at the bottom of each glass.
Add ice on top and fill each glass with half Kreider Farms Blueberry Lemonade and half sparkling water.
Stir and top with a lemon wedge!
Strawberry Orange Mimosa Mocktails
Looking for that special drink to elevate any brunch? Then this Strawberry Orange Mimosa Mocktail is the one for you! Made with fresh (or frozen) strawberries and our Kreider Farms Orange Juice, it's the perfect drink to sip on in the morning through the afternoon.
Ingredients (makes 2)
Kreider Farms Orange Juice
fresh or frozen strawberries
sparkling water
sliced strawberries, for garnish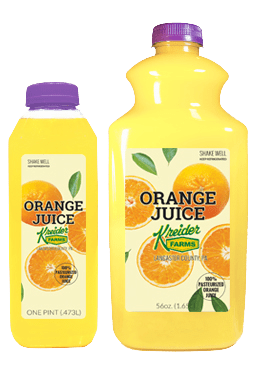 Instructions
Combine 1 cup orange juice, ½ cup strawberries and 1 cup sparkling water to a pitcher and stir.
Pour into glasses, top with sliced strawberries and sip up!
Fruit Punch Sangria
Our last End of Summer Mocktail is a fresh and fruity non-alcoholic take on the classic sangria recipe. This is the perfect way to elevate any simple punch and is a great option for your final cookouts and barbeques of the season!
Ingredients (makes 8)
lemon, sliced
lime, sliced
orange, sliced
apple, cored and sliced
Kreider Farms Fruit Punch
lemon juice
sparkling water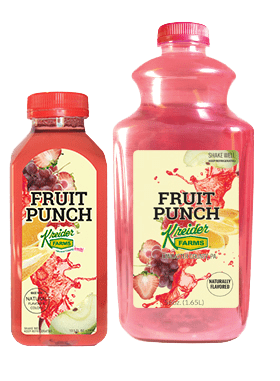 Instructions
Add the cleaned and sliced fruit to a large glass bowl or pitcher and add 4 cups of Kreider Farms Fruit Punch, gently stir.
Refrigerate for at least 1 hour and up to 6 hours.
Before serving, add 2 cups of sparkling water and gently mix.
Give these End of Summer Mocktails a try and tag us in your creations @kreiderfarms on Facebook and Instagram.