December 30, 2019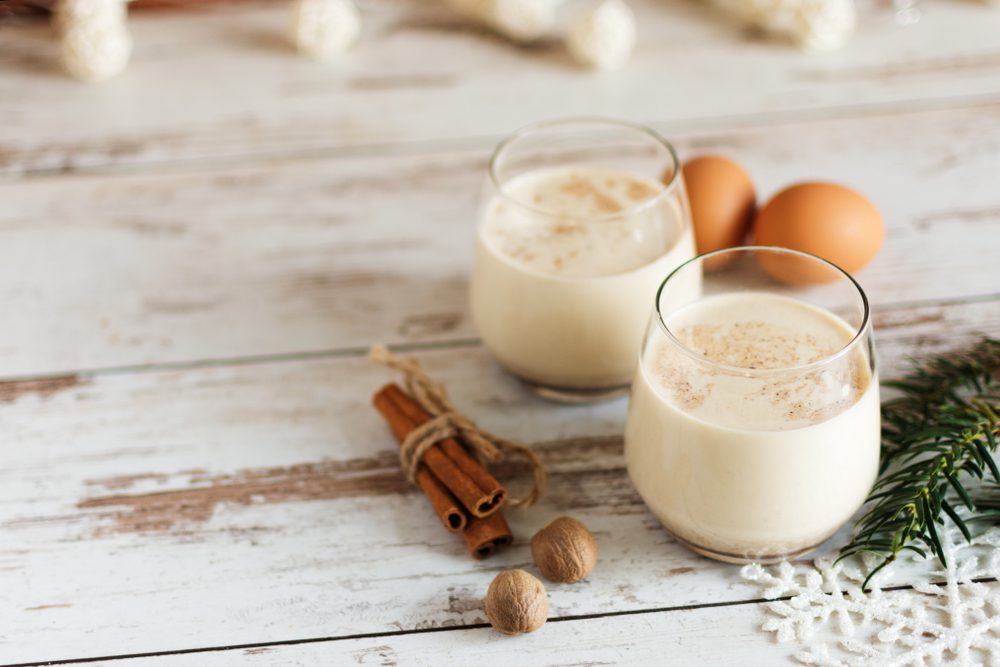 Ah, eggnog—a holiday classic. You either love it and look forward to it every year, or it's just not your taste. Either way, there's no denying eggnog products line the shelves of grocery stores during the holiday season. Unfortunately, it's almost impossible to find lactose free eggnog anywhere, which is why we want to teach you how to make your own!
Whether you've never tried eggnog due to being lactose intolerant, or you've had it before, and it made you too sick to try again, this recipe might be perfect for you. We love whipping it up around the holidays here at Kreider Farms, and we hope that you will, too.
About Our Lactose Free Eggnog Recipe
While the history of eggnog is up for debate, most historians agree that "eggnog originated from the early medieval British 'posset,'" which was "a hot, milky, ale-like drink." Today, there are many variations of eggnog—some prefer it cold and some hot, while others insist on removing the raw egg. Many also now prepare eggnog without alcohol so that everyone in the family can enjoy it. However you like to drink your egg nog, unfortunately it will almost always have lactose in it—but that's where our recipe comes in!
If you haven't picked up on it by now, we love our lactose free milk and ice cream here at Kreider Farms. As a result, we wanted to create a lactose free eggnog recipe that everyone could enjoy.
When you're lactose intolerant, your stomach is unable to digest the sugar (lactose) in milk due to a lack of lactase enzyme in your small intestine. After consuming lactose, most people feel intestinal pain or discomfort, diarrhea, nausea, stomach cramping, bloating, and more. It's also possible to have a milk or dairy allergy that causes even worse symptoms than lactose intolerance.
This lactose free eggnog recipe puts a little twist on the holiday favorite. The results are a full, creamy-textured drink that can be tweaked in flavor as needed.
Ingredients
To get started on this lactose free eggnog, these are the ingredients that you'll need:
⅓ cup Sugar
⅛ tsp. Salt
2 cups Kreider's Lactose Free Milk
1 Can Full-Fat Coconut Milk (13.5 ounces)
1 tsp. Nutmeg
½ tsp. Cinnamon
1 tsp. Vanilla Extract
Recipe
Our lactose free eggnog is pretty easy to make, but you will need a food-safe thermometer. Here's what to do:
Beat the Egg Yolks, Sugar, and Salt. Using a whisk, beat the egg yolks, sugar and salt in a heavy bottomed saucepan until the yolks lighten in color and turn slightly frothy.
Mix the Ingredients. Once the egg yolks lighten, add the lactose free milk, full-fat canned coconut milk, nutmeg, cinnamon, and the vanilla extract and continue to mix until combined.
Stir Over Low Heat. Place the saucepan over low heat and continuously stir until the mixture reaches 160°F – 170° Be careful not to bring it to a boil or allow the bottom to scorch.
Add Vanilla and Spices. Remove from heat and whisk in the nutmeg, cinnamon, and vanilla.
And Finally. Chill for a few hours and enjoy!
That's it! Our lactose free eggnog recipe is really that simple. This recipe should take you about 30 or so minutes to make and yields about 6 cups. For a little extra kick, we recommend sprinkling a bit of freshly grated nutmeg on the top of each glass to give it a festive bit of holiday spice.
Not Sure Where to Buy Lactose Free Milk?
If you're craving some of our lactose free eggnog after reading that recipe, but don't know where to get our lactose free milk, we've got you covered. You can use your store locator online, or you can even shop online if you are outside of the Lancaster, Pa. area. Feel free to contact us if you have any questions about our recipe or our products!